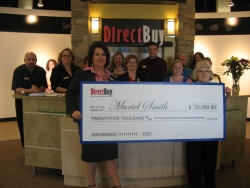 Halifax, Canada, June 04, 2008 --(
PR.com
)-- Muriel Smith of Halifax, NS, was having a terrible morning. Suffering from allergies and breathing problems, Smith was recently forced to give up her 6 week old kittens to a nearby shelter. "I couldn't keep them because of my severe asthma and scent sensitivity," said Smith.
Heartbroken, Smith nearly forgot what the rest of her day held in store for her. Just days earlier, Smith received a letter and phone call from DirectBuy, informing her that she was selected as the Grand Prize Winner of $25,000 in DirectBuy's Home Makeover Giveaway.
Still a little skeptical about the news, Smith made her way to the
Halifax DirectBuy
. "It wasn't until I came into the showroom that my day got a whole lot better," said Smith. "Everyone in the showroom was fantastic. They were so kind and excited to have me and I was so happy to be there."
Waiting there was the showroom staff, as well as franchise owner Coletta King. Excitedly, they presented Smith with a check for $25,000.
To celebrate her good fortune, Muriel and her family will be taking a trip up north to Calgary, AB. Muriel also plans on replacing her roof that has been giving her some problems.
"It was exciting for all of us to have a Home Makeover winner in our center, but the best part about it was meeting Muriel," said Owner Coletta King. "She is a very warm and sweet person and we were so happy to be able to give this money to her."
Members of DirectBuy have access to thousands of items, including kitchen cabinets, flat-screen televisions and major appliances from hundreds of top manufacturers and their authorized suppliers. Since DirectBuy offers brand-name merchandise with no traditional retail markup, members are able to save hundreds, even thousands, of dollars on purchases for their homes. To assist with home renovation, DirectBuy members also have access to licensed interior designers and product specialists who are specifically trained in one of five areas of merchandise: Home Furnishings, Home Improvement, Flooring, Accessories, and Entertainment/Outdoor.
About DirectBuy
For more than 35 years, DirectBuy has been showing thousands of consumers unparalleled ways to save as they shop for virtually everything for in and around their homes – from
furniture
,
carpet
and
flooring
, and
custom window treatments
, to
kitchen
and
bath cabinets
and
fixtures
,
appliances
and much, much more.
DirectBuy enables members to purchase most every product offering from several hundred manufacturers at more than 150 showrooms across North America. To request a "Free Insider's Guide to Buying Direct" and a Visitor's Pass to learn more about the superior value and benefits of a DirectBuy membership, visit
www.directbuy.com
or
www.directbuycares.com/
###