Brown Skin Girl is Hero of "BAMBOO: A Post-Apocalyptic Odyssey" - Novel by Clark Hilton Acquired by Books Illuminated
Recently acquired by Books Illuminated, climate fiction novel "BAMBOO: A Post-Apocalyptic Odyssey" tells the spellbinding epic journey of a teen girl's heroic quest for love and family in a nightmare near future.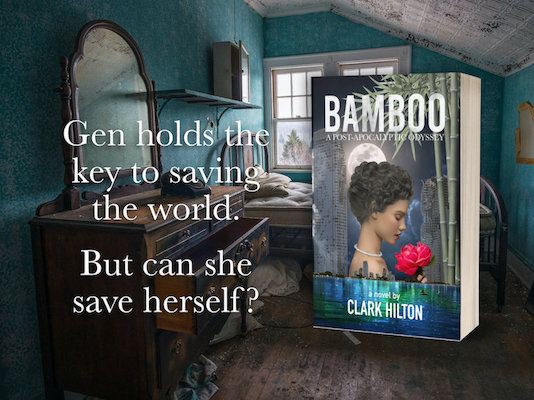 Los Angeles, CA, November 20, 2023 --(
PR.com
)-- Books Illuminated, LLC has acquired, in a pre-empt, the world publishing rights to Clark Hilton's speculative climate fiction novel, "BAMBOO: A Post-Apocalyptic Odyssey."
In a near tomorrow, Gen, just 16, journeys from her lonely family farm in search of a gleaming utopia filled with excitement, new friends… maybe even love. But Earth's fury tumbles her into a brutish world beyond her imagination. Gen holds the key to saving the world. Can she save herself?
In this science fiction work, Clark Hilton paints a post-climate-change nightmare in lyrical prose. The story is set in an inundated, savage domain of rough men and flesh-hungry beasts, where unfolds a dark-skinned teen girl's epic journey to find love in a loveless world.
From the novel: "A zephyr softly teased her hair with an epiphany — the place she called home was a lie."
The first volume of the BAMBOO series launches November 2023 with the audiobook and follow-on volume scheduled for 2024.
"The novel is an ode to literature, and a wonderful Christmas gift for teen and new adult readers who grew up with the Hunger Games and Divergent series," says spokesperson Art Radley, "BAMBOO makes a splendiferous stocking stuffer for the sci-fi dystopia fan in your life."
BAMBOO is general adult speculative climate fiction with literary execution for readers of Blake Crouch, Margaret Atwood, Cormac McCarthy, and Emily St. John Mandel. The tale weaves elements of genetic engineering, environmental disaster, technological failure, loss of history, societal unrest, vain hope, and bottomless despair, amid the coming-of-age of a reluctant hero.
The story's true source, according to the author, remains elusive, but seems to have traveled to our present day from some future society to warn of humanity's folly. Says Hilton: "The story unfolded from a curious artifact I encountered only by chance – a tiny holographic cube, which my tech team painstakingly decrypted. What emerged was a message for the world, and the tale of a teenage girl's remarkable odyssey. Because of its indeterminate source, I am presenting Gen's tale as fiction."
"A genre-melding, mind-bending journey through a brutal near future spiked with the anguished hope of new love." - Books2Flicks.com
About the book:
BAMBOO: A Post-Apocalyptic Odyssey
by Clark Hilton
ISBN: 979-8-9886020-3-3 (hardback) | 979-8-9886020-4-0 (paperback) | 979-8-9886020-6-4 (audiobook) | LCCN: 2023921366
6x9, 384pp, with chapter illustrations
On sale starting November 13, 2023
For information and to order:
ClarkHilton.com
About:
Publisher: Books Illuminated, LLC specializes in acquiring fully edited and proofed manuscripts for rapid turnaround to market. All acquisitions are selected for quality, as well as ancillary market potential: motion pictures, streaming series, animated series, music, fine art, comics, graphic novels, audiobooks, toys, games, and fashions. www.Booksilluminated.com
Author: Clark Hilton scribes award-winning words for the screen, print, and science edutainment. A business innovator, Hilton invented a tech platform to empower enterprises to transform torpid IP into new opportunities.
Contact
Books Illuminated, LLC
Art Radley
1-888-456-5858
https://booksilluminated.com

Contact