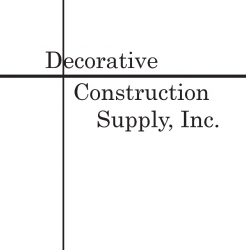 Mesquite, TX, June 18, 2008 --(
PR.com
)-- Decorative Construction Supply, the largest store of its kind in North Texas, officially opens for business June 9, 2008 in Mesquite Texas, a suburb of Dallas. With 35,000 square feet of retail, distribution and training space, Decorative Construction Supply takes the North Texas decorative concrete market to a much higher level. Decorative Construction Supply's principal partners are Cindy Hamm, President and Corey Granger, Vice President. Cindy, a veteran in decorative concrete, and Corey, an expert in the flooring industry, share the vision of uniting all aspects of decorative concrete in one place.
They have established strategic alliances with a host of superior manufacturers and training services such as Boot Camp Training Center- contractor training and AIAed- Architect and Designer continuing education. This comprehensive approach will stimulate great jobs, refer contractors to those jobs, offer contractor training and provide an extensive supply of products from basic to unique and advanced. This is a full service supply center for the decorative concrete industry. They will offer click-and-pull orders by internet, shipping, or fax orders to expedite product pick-up.
Decorative Construction Supply is preparing a Grand Opening Event scheduled July 9-11, 2008 at the store for all to attend free of charge. The event will be the grand scale of the store with great demos by manufacturers such as Encounter, SureCrete, Xcel, FossilCrete, Colormaker, Midwest Rake, Kemiko, LesCoat, Legacy, Rock-n-Roller, Surface Gel Tek, Prei Tech, Smith Paints, Fran Mar Chemical and many, many more.
Decorative Construction Supply is centrally located 10 minutes East of Downtown Dallas at 3920 US Hwy 80 East, Mesquite Texas 75149. Hours of operations are 7:30-4:30 Monday-Friday. Office telephone is 972.289.1700 and fax 972.289.1701. The web address is www.DecorativeConstructionSupply.com
###