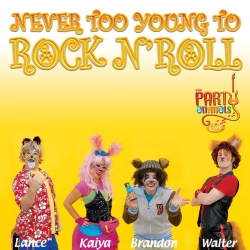 Los Angeles, CA, June 20, 2008 --(
PR.com
)-- The Party Animals will be partnering with Venture IAB to begin working together in creating a new brand of family entertainment.
The Party Animals Live has partnered with Venture IAB. Venture IAB is a full sevice talent and marketing agency who's clients range from Muse Watson (NCIS and Prison Break) to Christopher Knight (The Surreal Life and Celebrity Circus) as well as the marketing geniuses behind Cesar Millan and his hit show "The Dog Whisperer" on The National Geographic Channel. The partnership would give Venture their first child friendly product which would allow them to start developing a brand name and family franchise. The Party Animals Live markets itself as an interactive Rock n Roll concert that becomes one humongous party from the moment you arrive at the theater until the moment you leave. Before the concert begins, children are able to enjoy face painting, balloon animals, stilt walkers, and aerialists. Once The Party Animals take the stage, they perform a high-energy "Rock" concert suitable for the entire family.
The Party Animals Live began last year at The Colony Theater in Burbank, CA and has since performed in Hollywood, England, Germany, Norway, Belgium, The Netherlands, and Hawaii.
The Party Animals don makeup and accessories to create their onstage personas: Kaiya the Kangaroo, keyboard and lead vocals; Walter the Fox, lead guitar and vocals; Brandon the Bear, bass guitar; and Lance the Lion, drums. Together, they perform some of the coolest original kid songs ever written.
The Party Animals were created to fill the entertainment need of the youngest rock 'n' roll fans, two to eight years old, who enjoy the adult sound but deserve kid-friendly lyrics.
According to The Party Animals founder, Mark Allen Ruegg, "Kids love listening to adult music for the beat, but often you'll hear a preschooler singing Pussycat Dolls' or Eminem lyrics that aren't really appropriate for children. We've created a rhythm that's hip and now, with lyrics that are appropriate for kids of all ages". Though don't assume this show is just for the kids, The Party Animals perform rock 'n' roll for the whole family."
The Party Animals and Venture are starting to book their upcoming fall tour. In the meantime they can be seen headlining for The Screen Actors Guild 75th Annual Family Day picnic at Griffith Park in Los Angeles, CA on June 21, 2008. If you are interested in booking The Party Animals for your own private event, please contact Buffy Hornung at 818-590-8448 or Neil Stearns from Venture IAB at 213-381-1900 or email
info@thepartyanimalslive.com
. For more information on Venture IAB visit their web site at
www.ventureinfonetwork.com
and for more information on The Party Animals visit
www.thepartyanimalslive.com
For more information contact:
Buffy
(818) 590-8448
buffy@thepartyanimalslive.com
www.thepartyanimalslive.com
###