Can a Comfortable T-Shirt Convey Self-Worth and Positively Impact the Lives of Women? The Founder of Jordanns Positive Apparel Believes, Yes It Can.
A new and exciting website features a collection of empowering T-Shirts for girls and women and is helping to support the fight against domestic violence.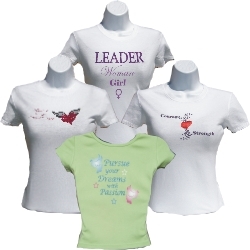 Las Vegas, NV, June 24, 2008 --(
PR.com
)-- Frustrated by the trend of T-Shirts that diminish the spirit of girls and women, Carla Weiskopf, founder of Jordanns Positive Apparel, embarked on a mission to create her own uplifting shirts. "I wanted shirts that embraced the confidence of girls and women and also encouraged self-worth rather than depreciate a woman's character," said Carla. "Often I have seen young girls and women in apparel suggesting that they are not intelligent or that their only contribution is their physical attribute. Apparel should be fun, comfortable and make you feel good on the inside and the outside."
Carla Weiskopf, a stay at home mother of four children, one of them being her only daughter, Jordann, wanted a to start a business that would allow her to raise her children and also benefit the lives of other women. With this mission in mind, Jordanns Positive Apparel was born and www.jordannspositive.com was created. Jordannspositive.com is an up and coming website featuring eight motivating designs for women and three empowering designs for girls. Each shirt merges original artwork and inspiring sentiments, creating a wonderful addition to any wardrobe.
Carla, committed to making a difference, donates a portion of the proceeds from Jordanns Positive Apparel to the R.O.S.E. (Regaining One's Self Esteem) Fund, a national nonprofit organization. It is a remarkable organization established to support and encourage survivors of domestic violence (www.rosefund.org). "I am excited about the shirts and believe my messages reflect the heart of their organization," said Carla. People often wonder how they can make a difference in the lives of others, this website makes it possible to both buy a quality product and also help support women overcome incredible obstacles and lead triumphant lives.
Currently, these T-Shirts are only available at www.jordannspositive.com. Each shirt is made up of 100% cotton and are machine washable. The prices of the women T-Shirts are $24.00 for sizes Small through X-Large and $25.00 for XX-Large. The price for the girls T-Shirts are
$18.00 for sizes Small through X-large.
For more information and to view Jordanns Positive Apparel collection, visit
www.jordannspositive.com
. To speak with a Jordanns Positive Apparel representative call
(702) 869-3266 or email at jordannspositive@cox.net.
###
Contact
Jordanns Positive Apparel
Carla Weiskopf
702 869-3266
www.jordannspositive.com

Contact