NHL Wife Invents Best Selling Pacifier Accessory to Eliminate the Problem of Lost Pacifiers
Paci-Plushies™, Available at PaciPlushies.com, are Big Hit Among NHL Hockey Wives and Moms Everywhere.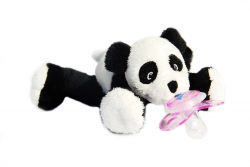 Los Angeles, CA, July 11, 2008 --(
PR.com
)-- Stacy Dallman created an ingenious solution for "disappearing pacifiers", when she and her husband, NHL Defensemen Kevin Dallman of the Los Angeles Kings, found themselves at wits end over constantly searching for their toddler daughters missing pacifiers. The Paci-Plushies™ story started after the birth of the couple's second child. Dallman recalls being frustrated with the, "frequent tantrums that would wake the newborn" thrown by her daughter when a pacifier could not be located. Says Dallman, "more often than not, a pacifier would be in plain sight, yet I would overlook it because of its size." Dallman decided to take matters in her own hands and create an attachment which would help parents and babies spot pacifiers from across the room.
With the support and encouragement of her husband and fellow LA Kings Hockey Wives, Dallman spent the entire 2007-2008 hockey season researching and developing the Paci-Plushies™. After three failed prototype attempts, Dallman finally found what she was looking for with a plush toy company out of Hamilton, Ontario. Dallman went on to create five distinctive plush animals: Paisley The Panda, Koko The Koala, Cuddles The Cat, P-Nut The Puppy and Milo The Monkey. Dallman adds with a laugh, "Milo The Monkey was named after Milo The Dog." Who is, she explains, LA Kings Star Forward Dustin Brown and his wife Nicole's Chocolate Labradoodle. With the end of a losing hockey season rapidly approaching, Dallman went ahead and took the plunge by placing an initial production order for 9,000 Paci-Plushies™ that are now available on the
Paci-Plushies Website
at www.PaciPlushies.com.
Paci-Plushies™ are quickly becoming a hit for babies and toddlers of all ages. The innovative line of plush toys attach directly to over 200 styles of pacifiers, making the pacifier easier for baby to find, effortless for mom to locate around the house and natural for babies to grasp onto and bring up to their mouth. The attachment of a silicone Hug Ring™ allows for pacifiers to be removed from the toy for sanitation or replacement, and allows picky pacifier users to continue using their preferred brand of pacifier. A clear colored orthodontic pacifier and cap are included with the Paci-Plushies™, which retail for $13.95 and ship worldwide.
Paci-Plushies™ are expected to take center stage at their official launch in September at the 2008 ABC Kids Expo in Las Vegas, where they will be on display in the New Products Showcase and available for wholesale purchase.
Paci-Plushies™ make great baby shower gifts and have proven to be an instant favorite for NHL babies throughout the country. In the process of designing the next line of Paci-Plushies™, Dallman said she is considering a small run of specialty Paci-Plushies™, which would of course include a plush hockey stick.
Dallman, a native Western New York, has two small children and currently resides with her family in the Los Angeles area.
For additional information about Paci-Plushies™, log onto PaciPlushies.com . Email questions, comments or PR requests to
CustomerService@PaciPlushies.com
or call 1-800-493-0246.
###
Contact
Paci-Plushies
Stacy Dallman
213-435-9859
www.paciplushies.com

Contact