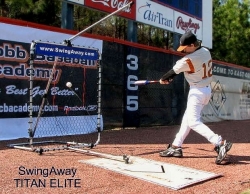 Atlanta, GA, July 18, 2008 --(
PR.com
)-- SwingAway Sports Products announced a new product line simultaneously to the final closing of the acquisition of the rights and patents of the SwingAway Hitting System. The new name of this Product Line is the TITAN. The word TITAN is defined as something of Power, Strength and Influence. The new TITAN Product Line is built to take the constant use and demands of the Professional Athlete and it is also available to All Players who possess the drive and determination to Get Good, and then become The Best. SwingAway Sports Products is so confident in this product that it Guarantees its customers that they will become better baseball or softball hitters in just 30 days.
"The Baseball and Softball Hitting Aid Market is riddled with Gimmicks and basically cheaply made products and SwingAway will always adhere to their strict quality standards. The SwingAway will never sacrifice the structural integrity and overall quality of their products to succumb to price point pressures," states John J Flading the new President and CEO of SwingAway.
Mr. Flading originally purchased a SwingAway for his 2 sons over 3 years ago and became so impressed with the machine and the results he ended up buying the entire SwingAway Product Line.
SwingAway plans to introduce another product line that will cater to the younger player from the ages of 4 through 10 later this year.
www.swingaway.com
###