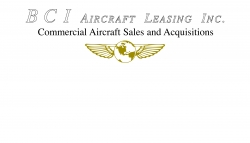 Chicago, IL, July 21, 2008 --(
PR.com
)-- "We are very enthusiastic about the opportunity to support aviation students who show promise in the field of
aviation finance
," said
Brian Hollnagel
, President and CEO
of BCI Aircraft Leasing
. "As a life-long aviation enthusiast myself, I'm honored by the chance to assist those who share this passion in building a career in the field."
BCI Aircraft
Leasing is currently in discussions with several leading aviation schools regarding the structure of the program. In addition, the company is organizing a selection board which will award the merit-based scholarships. The program is expected to be in place for the upcoming 2008-2009 academic year.
"We are definitely taking a long term view and hope the program will have a significant impact on bringing bright, future leaders into the field,"
Hollnagel
said.
"Having been a part of the aviation finance industry for the last twenty years, I've had the chance to watch the industry expand and mature into the dynamic field that it is today," said Craig Papayanis, Managing Director of BCI Aircraft Leasing. "We look forward to implementing the scholarship program over the next several months, and fostering the development of those who will join us in leading the industry into the future."
BCI Aircraft Leasing, Inc was founded in 1997 and since then has become one of commercial aviation's leading privately-held operating leasing companies. BCI provides airlines with financial products and services to help them achieve their financial and fleet planning goal. BCI Aircraft Leasing's customer list includes leading airlines such as Air Canada, Air France, KLM Royal Dutch Airlines, Southwest Airlines, Swiss International Air Lines, US Airways, and many other prominent air carriers around the world. For more information, please visit
www.bciaircraft.com
###