July 26th Inaugural Green Reggae Festival in Mohawk
All Day Music Concert and Green Festival on Grounds of Historic Summer Home of former presidents and Greatest Cellist of 20th Century, Mstislav Rostropovich. Focused on raising awareness for the environment, festival is first of its kind for the region. Picnic and camping are allowed for the day and reduced admission for Hall of Fame and Irish Festival attendees.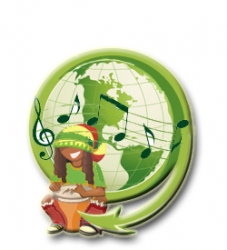 Mohawk, NY, July 23, 2008 --(
PR.com
)-- Join host Dahved Levy, John Brown's Body, Junior Holt & The Ruff Stuff Band, Ed Robinson, TruMystic and more celebrate the environment and bring awareness to the importance of Climate Protection. Reggae Festival for Climate Protection is an all-day Green Festival from 9am – 12am overlooking the Mohawk Valley at Gelston Castle Estate, 980 Robinson Road in Mohawk, New York.
The first festival of its kind will be an outdoor picnic and fun for all ages event. Located 20 minutes north of Cooperstown, 10 minutes from the Thruway at exit 30 and 45 minutes from Albany, the Gelston Castle Estate is the historic summer home where US President Theodore Roosevelt spent his childhood summers.
Gates open at 9am for vendors and the Kids Soccer Tournament begins at 10am. Music begins at 12pm with presentations and speakers throughout the day. The Adult Soccer Tournament at 12pm and the Domino Tournament will begin at 2pm.
The music concert will feature Junior Holt with Ed Robinson & the Ruff Stuff Band, John Brown's Body, Dave Hillyard & the Rocksteady 7, Trumystic, and 7 more bands and DJs the unifying themes of Reggae Music, Culture and Awareness. Hosted by "Original Rude Boy" Dahved Levy of WBLS 107.5 in NYC in the World's Greatest Outdoor Venue – Nature's Palace.
To be more carbon-concious, buses will be available from Albany leaving at 10am and 1pm from Crossgates Mall and Albany-Rensselaer Amtrak Station. NYC travelers can save gas by traveling on Amtrak to Albany-Rensselaer or Utica Station or find ridesharing through Ride Amigos by going online to www.rideamigos.com – type "reggae" in private event rides and find someone close to you who may be travelling to the festival. Ride Amigos will calculate the carbon saved at the end of the event.
Tickets can be purched in advance online at www.r4cp.com or www.ticketweb.com. Call 866-746-0186 for physical locations in Syracuse, Albany, Utica, Herkimer and NYC.
General Admission to the festival is $35 at the gate. Children under 12 are free. VIP Admission is $150 and includes backstage access to the concert.
Attendees of the Irish Festival and Hall of Fame Induction Ceremonies receive reduced admission of $20 if they show their pass or ticket to the other event.
In addition to the efforts of the organizers to raise awareness to Climate Protection, the organizers hope to bring attention to the critical issue of gun violence as a portion of the net proceeds will be donated to the fund for Kathina Thomas, a 10-year old girl from Albany, NY who was killed from gunshot wounds, on May 29, 2008.
For more information on tickets, vendor and sponsorship packages, and performances, visit
www.r4cp.com
or call 866.746.0186.
###
Contact
Safflyn Corporation
Errol Chen
718-276-6252
www.safflyn.com

Contact