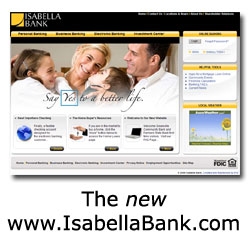 Mt. Pleasant, MI, July 24, 2008 --(
PR.com
)-- The newly revised website for Isabella Bank (www.IsabellaBank.com) has been selected as a finalist for the 2008 WSI Web Awards under the category of Best Industry Application for Financial Services. The bank chose WSI (We Simplify the Internet) earlier this year to assist with a complete "website makeover" to coincide with a re-branding effort that introduced a new bank name and logo.
"We had three other banks under our holding company (with different names) and wanted to create some consistency for our customers and staff as well as enhance our brand image," says Steve Pung, Senior Vice President for Isabella Bank. "We also were interested in simplifying our name from Isabella Bank & Trust to Isabella Bank and created a new logo to also help us convey the positive changes the bank was going through."
When looking for a partner for their website re-branding and Internet marketing efforts, they selected WSI, due in large part to the banking experience of Eric Cook, WSI Internet Consultant and their project manager. Cook brings with him hand's on banking experience, as he was a community banker for 15 years before deciding to join WSI in August of 2007.
"For our bank, we felt it was important that we work with someone that knew banking and technology, and Eric fit that description perfectly," continues Pung. "I had known Eric when he was in banking and he was always regarded as an innovator and leader, especially when it came to technology. Now that he is working as an Internet Consultant, the combination of his banking background and knowledge of the Internet is a perfect fit for us."
"As an Internet Consultant with WSI, I'm part of a global organization of over 1,500 Internet Consultants located in almost 90 countries across the globe," says Cook. "As the world's leading provider of Internet marketing solutions for small and medium sized businesses, WSI's global presence provides my clients with best-of-breed solutions and me with the training and education that I can pass along to my clients, while enabling me to serve as a business consultant and advisor to help guide the process."
Being selected as a nominee for the 2008 WSI Web Awards is quite an honor, considering the thousands of sites that WSI consultants produce every year. The voting is not open to the public and is intended to be a peer review by other WSI consultants. All together, there are only 35 sites chosen in select categories (such as Creative Excellence, Best Product Showcase and Best Non-English Site) and the grand prize winner will have the opportunity to attend WSI's Excellence and Innovation convention this September in Las Vegas.
"I really enjoy 'going deep' with my clients and being able to leverage my business experience that transcends simply Internet marketing," says Cook "Working with banks like Isabella Bank gives me the opportunity to help in a variety of ways and I'm so excited they are being recognized as a nominee for this award. It certainly was a group effort and their staff had input all through the process and should be proud of this recognition."
Cook's banking background includes holding positions as a community bank chief operating officer and regional president, as well as serving as chairman for the Michigan Bankers Association's Operations and Technology Committee for three years prior to his departure from banking. He's also a graduate of the prestigious Graduate School of Banking in Madison, WI and has an MBA, which enables him to provide much more than simply website design tips and suggestions for his clients.
"We are already talking with Eric about what we want to do next with our site," concludes Pung. "One thing that Eric has shown us is that the Internet is constantly changing and we need to be prepared to adapt over time. We feel much more confident now that we have Eric and WSI working with us."
To learn how Isabella Bank can help you with your banking needs, you are invited to visit the bank online at www.IsabellaBank.com or stop by any of their offices located throughout north-central Michigan. If you are a business owner and are interested in learning how WSI may be able to help with your Internet marketing efforts, contact Eric Cook at (269) 841-5007 or visit him online at www.PoweredByWSI.com.
###