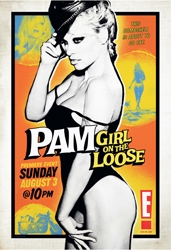 Los Angeles, CA, July 24, 2008 --(
PR.com
)-- World-renowned icon and international celebrity Pam Anderson opens up her life for the first time to give E! viewers unprecedented access in the new observational documentary Pam: Girl on the Loose. The series, shot primarily on film, takes viewers beyond Pam's famous image to provide a truly personal and in-depth glimpse into the world and creative vision of this outspoken animal rights activist, passionate environmentalist and devoted mom. Pam: Girl on the Loose premieres Sunday, August 3 at 10:00pm ET/PT, only on E!
Pam is a woman of many contradictions - fiercely loyal to her native home in Western Canada, along with being described as the ultimate All-American beach girl. She is as aggressive and protective about her activist causes as she is about her children, the true loves of her life. She is well read, articulate and intelligent, but also surprisingly famous for being naked from time to time.
Pam: Girl on the Loose is shot with the style and sixties-esque artistic flare of a feature documentary, a style devised by Pam herself, setting it apart from every other show on the television landscape. In this uniquely intimate series Pam (not only as star but as co-director and co-editor) takes fans beyond her fame to present a true glimpse into her private life, exposing the woman behind the myth. She is chaotic, funny and always entertaining as she pauses in her daily life to explain what she's thinking and feeling directly to her audience, offering her fans an intimate sense of her multidimensional world. Throughout each episode, Pam inscribes her own personal messages and thoughts in pink marker across the screen to connect even further with viewers.
Episode one kicks off with Pam taking part in a glamorous photo shoot with her best friend, soul mate and photographer-to-the-stars, David LaChapelle, as part of a museum installation art project. Pam is then driven directly to the airport to be whisked away by private jet to see the last performance of The Red Piano, the legendary show directed by La Chapelle and featuring not only their friend Elton John but Pam herself, following which they surprise Playboy founder Hugh Hefner on his birthday. True to her priorities, Pam flies back to Malibu to be home before her sons wake up.
In an effort for a fresh start, Pam holds an enormous yard sale unloading hundreds of mementos from her past, including her Baywatch bikini and first wedding dress, with proceeds going to PETA. Pam's boys who have adopted her passion for charity work also set up a corner lemonade stand to raise funds for a local animal conservation charity.
Throughout the series, viewers follow Pam working with her manager Peter Asher and the rest of her team, organizing every aspect of her life, both professional and personal, globally and locally. Despite her jam-packed work schedule, Pam makes a point of staying very hands-on with all of her projects, whether it be a real estate development in Canada, a proposed building project in Abu Dhabi or an upcoming baseball game. She employs no help at home and has no nannies for her boys, choosing to cook, clean and watch after them herself. In addition, she is personally overseeing the construction of her new eco-friendly mansion in Malibu and viewers will follow the transformation of this home from bits of scaffolding to a gorgeous "green inspired" estate, with Pam leading the charge every step of the way.
Pam has been a strong, public supporter of PETA for many years and the series also follows her efforts raising awareness for the organization. In a later episode, Pam's work on behalf of PETA takes her to Washington, DC where she attends the White House Correspondents' dinner and the President himself acknowledges her to the crowd.
Pam: Girl on the Loose premieres Sunday, August 3 at 10:00pm ET/PT, only on E!
Executive Producers for the series are Fenton Bailey, Randy Barbato and Tom Campbell for World of Wonder Productions, Jeff Pollack for Handprint Entertainment and Pam Anderson, with Julio Kollerbohm serving as co-executive producer.
About Comcast Entertainment Group
Based in Los Angeles, Comcast Entertainment Group operates E! Entertainment Television, the 24-hour network with programming dedicated to the world of entertainment, and E! Online; The Style Network, the destination for women 18-49 with a passion for the best in relatable and inspiring lifestyle programming; and G4 offering the last word on gaming, technology, animation, interactivity, and "Internet culture" for the male 18-34 demo. E! is currently available to nearly 94 million cable and direct broadcast satellite subscribers in the United States. In 2006, E! launched the E! Everywhere initiative underscoring the company's dedication to making E! content available on all new media platforms anytime and anywhere from online to broadband video to wireless to satellite radio to VOD. The Style Network currently counts 58 million cable and satellite subscribers and G4, the #1 podcasted cable network in America, is available in more than 64 million cable and satellite homes nationwide.
About World of Wonder Productions:
Executive producers Fenton Bailey and Randy Barbato are the founders of World of Wonder Productions (www.worldofwonder.net). Based in both Los Angeles and London, World of Wonder is best known for award-winning films and documentaries such as The Eyes of Tammy Faye, Party Monster, Inside Deep Throat, HBO's Monica in Black and White. Most recently World of Wonder produced Heidi Fleiss: The Would-Be Madam of Crystal and When I Knew for HBO, and Tori & Dean: Home Sweet Hollywood for Oxygen.
###