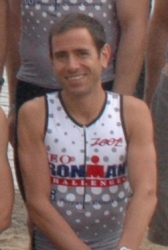 Boulder, CO, August 01, 2008 --(
PR.com
)-- Michael Arnstein, founder and CEO of New York-based Market Organization Inc., an Internet gem and jewelry exchange firm, captured the Ford Ironman Lake Placid USA CEO Challenge competition held July 20. Arnstein bested a field of 16 CEOs who participated in the CEO Challenge, an event within the highly popular 10th Annual Ford Ironman USA competition.
Peter Scharer, president and founder of Laguna Beach, Calif.-based Images In Foil Inc., a company that specializes in producing niche currency-based paper and plastic products, nabbed second place. Maury Blackman, president and CEO of Accela Inc., an international software company focused on connecting people to government services, garnered third place in the CEO Challenge competition. Arnstein, Scharer and Blackman all earned coveted placement in the CEO Ironman World Championship in Kona, Hawaii, on Oct. 11. The winner of the CEO Challenge in Hawaii earns the title of "World's Fittest CEO."
The athletes battled both competitors and elements, with cool, wet conditions in Lake Placid. Arnstein finished the Ironman in 10:10.57; Scharer finished in 10:35.23 and Blackman finished in a time of 11:02.00. A seasoned runner, Arnstein was boosted by a 3:20 marathon time despite some cramping two-thirds of the way through the course. Scharer came in 7th overall in the 45-49 age group category, thereby earning him an age group Kona slot.
Arnstein is a lifelong athlete who ran his first marathon at age 17; he has completed six Ironman competitions. This was the second Lake Placid Ironman competition for runner-up Scharer and his 12th Ironman overall. Scharer has qualified three times for Kona previously and participated twice. Blackman's previous races include the 70.3 World Championship in Clearwater, Fla., the 2008 California 70.3 CEO Challenge, Ironman Coeur D'Alene and Ironman Canada.
Boulder, Colo.-based CEO Challenges is the world leader in sport competitions designed specifically for C-level executives. This year, the company will host almost 20 competitions specifically designed for CEOs worldwide.
Next up for CEO Challenges are the 2008 Subaru Ironman Canada in August and the Aviva Singapore Ironman 70.3 in September. While Ironman Canada registration is full, a handful of slots remain on a first-come, first-served basis for the Singapore event.
About CEO Challenges (www.ceochallenges.com)
CEO Challenges is the world leader in sport competitions designed specifically for CEOs. The firm's goal is to find the world's best CEO in several sports. Founded in 2001 with the CEO Ironman Challenge, CEO Challenge has expanded to include CEO Triathlon, Golf, Cycling, Marathon, Fly Fishing, Sailing and Tennis Challenges in settings worldwide.
###