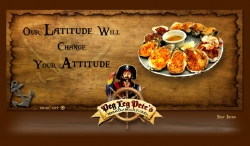 Pensacola, FL, August 06, 2008 --(
PR.com
)-- Pegleg Pete's Oyster Bar and Restaurant has a brand new ecommerce website. Their new site has a much better navigation, a sophisticated and secure online store with advanced Flash animation and easy checkout. The new website went live last week and is already getting great reviews. Check it out here:
www.peglegpetes.com
.
Pegleg Pete's new website also has a live Web cam of Pensacola Beach and of the restaurant bar so you can check out the weather before you dine there. The site was built by a local web design company called Seller's Bay who is also currently building sites for McGuire's Irish Pub, Flounder's Chowder House, Crabs, X-Clean and The Shopper Free Classifieds and that's just the local websites they are also developing a brand new site for The Trump Grande in Miami, FL. They are fast becoming the name to call when you need a website, they are ranked on the front page of Google if you type in the keywords web design services so they seem to know what they are doing with search engines also. They are located in Gulf Breeze, FL. Their site is:
www.sellersbay.com
. Check them out today.
###