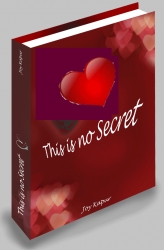 San Francisco, CA, August 08, 2008 --(
PR.com
)-- Released today, this book contains the essence of the wisdom of India's ancient seers. It will give you insights and show you how to create infinite abundance by applying and following the cosmic laws. These cosmic laws are not just thoughts or actions, as most self-help books would mislead you to believe…instead they are connected to the Purity Of Our Heart, the Cosmic Antenna capable of receiving and remitting thought waves, faster than the speed of light.
Joy Kapur states, "This is not my knowledge. I became a conduit in the hands of an unseen power. This book wrote itself out. This was handed out to me in spells that lasted many days and weeks and sometimes 10 hours at a stretch. It has changed my life in ways I cannot tell you in words. I hope it changes yours. All of us are connected to this electro-magnetic field of the heart but a few know how to make this energy flow in our lives as there are many negative and stressful events that dissipate this energy from our bodies."
"Once in a while, every once in a long while , you meet a person whose spirituality and talents touch your innermost being. Joy Kapur is one such person. Joy's book is influenced by ancient Vedanta and Bhagwad Gita . Whereas "The Secret" revolves around the mind, "This Is No Secret" touches the heart." -- Roger Lee
The book is being published on the Internet as an e-book for $14.95 and in combination with 5 other E-books worth $330 with a total price of $24.95 only. This combination is very unique as it teaches you how to create abundance (using Internet) which includes good health, wealth, wisdom and spirituality from anywhere, anytime and at any age. Joy Kapur will give 75% of proceeds to any charity that markets this to its members.
You can buy it online at
www.ThisIsNoSecret.com
About The Author
Joy Kapur was only 2 years old when his father passed away. He was brought up by his mother who was very spiritual. In 1947, the family became refugees after partition of India. The family lost all their possessions & Joy Kapur's early childhood was a period of struggles.
Armed with eight dollars and a Masters in English Literature, J. Kapur came to America in 1967 with truly little more than a shirt on his back. While studying for his MBA at San Francisco's Golden Gate University, Kapur worked in the evenings. He has been a lifelong student of metaphysics and his outlook on life is innately spiritual.
He has written poetry books and articles on spiritually oriented topics. "This Is No Secret" is his latest work.
###