Reynolds Polymer Technology Installs Trendy New Acrylic "Ice" Bar in Romania
R-Cast™ Ice material debuts in the lobby of the new Radisson SAS hotel in Bucharest, Romania. This marks the first custom-cast project with the ice texture for Reynolds. Modeled after bars made out of real ice, this installation offers a stylishly unique and high-end atmosphere with colored lighting illumination the deep grooves of the ice texture, minus the sub-freezing temperatures.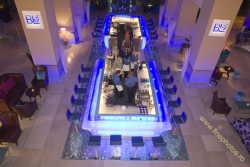 Bucharest, Romania, August 08, 2008 --(
PR.com
)-- Reynolds Polymer Technology (RPT), one of the world's leading acrylic manufacturers and designers, announced the opening of their latest project, a stylishly high-end bar in Romania made out of the brand new R-Cast™ Ice material. The custom-cast acrylic, heavily ice-textured bar, called the Blå Lounge Bar, sits in the lobby of the Radisson SAS in Bucharest.
"Blå Lounge Bar is the innovative bar … which surprises your senses with its special ice sculpted bar design," said Ramona Gaman, PR Coordinator at the Radisson SAS in Bucharest.
Mounted on top of a glass pedestal with small LED lights and crystal blue water beneath, the bar features two horseshoe-shaped sections, each of which required nearly 30,000 cubic inches (approximately 76,000 cubic cm) of deeply textured ice acrylic on the front and sides, and completely smooth acrylic for the top of the bar. A rotating pattern of colored lighting installed on the inside of the bar's acrylic panels constantly creates a new effect for the bar and surrounding lobby.
"When you look at the finished product of this ice bar, it's just absolutely stunning," said Roger Reynolds, III, CEO of RPT. "The way the lighting catches the veins of the ice, and how that transforms the rest of the lobby is really quite captivating to experience."
Each of the two sections of the bar measures nearly 14 feet long (4.26m) and 9 feet wide (2.74m) and stands 3.5 feet high (1.06m). Every few seconds, lighting panels behind the acrylic bar gradually change the color diffused through the deeply carved ice texture from blue, to turquoise, to pink.
"'Theatrical, Modern, Casual, [and] Eclectic' are the best attributes to describe the atmosphere the bar creates in its intimate surroundings," stated Gaman.
RPT's new R-Cast™ Ice product, originally designed for this project in Bucharest, makes RPT one of the first acrylic manufacturers to perfect the texture so that it not only looks realistic, its surface texture feels realistic with the peaks, valleys, and contours of real ice– but without the freezing temperatures.
"This ice product really opens the doors for more architectural projects," said Roger Reynolds III, CEO. "Because each sheet of ice is truly one-of-a-kind and can have a phenomenal impact just by changing the lighting behind it, it's perfect for any hospitality projects like restaurants, hotels, or nightclubs."
Ice is the latest in the R-Cast™ Cast Acrylic product line, and is unique in that the texture of the ice is completely randomized without any repetitive patterns. This ensures that the acrylic Ice more closely resembles real ice, particularly with light refractions off the surface.
By using a variety of different translucencies and colors that are available, and with creative use of lighting, innumerable effects can be yielded with R-Cast™ Ice. Available in half-inch and one-inch thicknesses, R-Cast™ Ice is available in sheets as large as 4' x 8', or can be cast into a variety of custom shapes for custom projects.
For more information about R-Cast™ Ice, or to request a sample, please contact Julie Hober at 970-241-4700 or visit reynoldspolymer.com.
About Reynolds Polymer Technology, Inc.
Reynolds Polymer Technology is known as the leading manufacturer, fabricator, designer, and installer of R-Cast™ Acrylic and resin sheets. Their products have been used extensively in the architectural, signage, aquarium, furniture, and scientific industries world-wide. With more than 25 years' experience, RPT is constantly raising the standard for what can be done with acrylic and resins. Headquartered in Grand Junction, Colorado, RPT also has operations in Rayong, Thailand. Visit www.reynoldspolymer.com for more information.
Contact
Julie Hober, Marketing/Advertising Associate
Reynolds Polymer Technology, Inc.
+00 970.241.4700
www.reynoldspolymer.com
###
Contact
Reynolds Polymer Technology, Inc.
Julie Hober
970-241-4700
www.reynoldspolymer.com

Contact