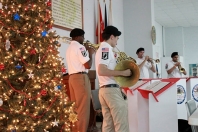 The Patriot Brass Ensemble is the first and only professional brass group dedicated to serving Veterans. In 2004 the group first performed in Ridgefield, NJ, after local resident and founder Steven Behnke was unhappy with the music at the town's Memorial Day Ceremony. He spoke to the town and secured funding to construct a new ensemble, and the effect the music had far surpassed all expectations. "We had Veterans walking up to us telling us this was the best ceremony they had ever been to. That feeling was amazing", says Steven. Little did he know, this would become his life's work.
As the group grew over the years, it was clear that it needed to become a full time 501(c)(3) charity: in 2010, the Patriot Brass Ensemble was born. In the ensemble's first official year, they performed over 40 events for a wide range of Veterans' organizations and hospitals. These events supported local organizations such as the American Legion, Veterans of Foreign War, AMVETS, Arkansas Fallen Hero's Memorial Motorcycle Ride, The Patriot Guard of Connecticut and The Elks Army of Hope Fundraiser. They have also performed many concerts at VA Hospitals along the East Coast, including a special concert at the Walter Reed Army Medical Center.
The Patriot Brass Ensemble functions, works, and sounds much like the "premiere" active duty military bands in Washington DC. They spend many hours studying military protocol so they can seamlessly fill in for these bands who, unfortunately, rarely perform for Veterans' events due to cutbacks and availability. Long-term goals include annual concerts at every Veterans' Hospital in the United States, and the establishment of mobile groups that perform for individual events, such as fundraisers, ceremonies, parades, holidays, weddings and interments nationwide. The Patriot Brass Ensemble strives to return the humanity to the Veterans who have sacrificed so much serving our county with their full devotion and honor.