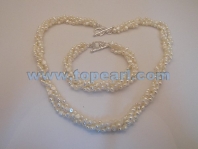 ToPearl Jewelry Inc. - www.topearl.com, China's online wholesale jewelry company, supplies Chinese cultured freshwater & akoya pearl beads and strands,pearl jewelry including pearl necklaces,bracelets,earrings,pendants and rings. All cultured pearls are directly from our Chinese pearl farms.
Now our online wholesale jewelry store mainly supplies freshwater & akoy pearl jewelry, coral jewelry, turquoise jewelry, crystal, jade, shell jewelry, lampwork jewelry, gemstone jewelry, wish pearl gift sets,oysters with pearls. All jewelry products are handcrafted. In addition, our online wholesale jewelry store also wholesales jewelry raw materials - freshwater pearls, akoya pearl beads & strands, coral beads, turquoise, shell beads, jewelry clasp fittings, jewelry making tools.
Each year our own jewelry designers're continuing to design new jewelry styles – black pearl jewelry, Crystal & pearl jewelry, fine pearl jewelry such as bridal jewelry series,anniversary pearl jewelry, and beautiful graduation pearl jewelry. Custom jewelry designs are welcome.
Thanks to visit our online wholesale jewelry store: http://www.topearl.com/. And welcome to visit our jewelry processing factory in Liwan Plaza Guangzhou City, China.