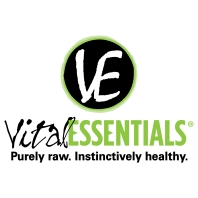 Vital Essentials is the most tenured raw pet food in the nation. The family owned company located in Green Bay, WI, manufactures high quality raw frozen and freeze-dried pet food, snacks and treats. Sourced, made and packaged in the USA, every Vital Essentials product stands up to the same promise – Purely Raw, Instinctively Healthy. To learn more, visit www.veraw.com
Status

Private Company

Founded

2009

# Employees

100
Company History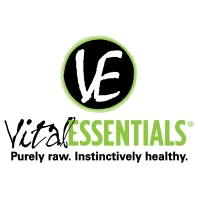 Company Background
When you arrive at the office of Carnivore Meat Company, home of the raw pet food brand, Vital Essentials®, you know immediately upon entering the building that you are some place unique, some place that's just simply different. On any given day, you may be greeted at the door by one of the dozen dogs and cats that might be "working," which is code for taste testing. They are actively involved in the product development process, giving a "paws up" or "paws down" to new food and treat concepts.

Carnivore Meat Company is not only a pet-friendly workplace with an outstanding culture, it's revolutionizing the pet food industry globally with its Vital Essentials® brands and private label business. Their products are developed on their dietary philosophy, the ALPHA Prey-Model Diet, a term coined by the company and pending trademark, to promote vitality and support the overall health and wellness for all dogs and cats. Frozen and freeze-dried treats and food follow nature's example with no added fruits or vegetables, just meat, vital organs and bones, which are the most nutritious and delicious to a carnivore.

GROWTH THROUGH INNOVATION
Continuous product development and new, unique merchandising techniques are ingrained as a part of the culture from the top down. There are no boundaries when it comes to ideating new products. And, Carnivore Meat Company and its Vital Essentials® lines have flourished with its trial-and-error methodology.

The company has found success in its approach to sourcing exotic or never-before-used raw materials to produce frozen and freeze-dried RAW treats and food. Some recent introductions include VE Raw Bar™ with 12 freeze-dried snacks, freeze-dried minnows for cats and dogs, freeze-dried rabbit ear treats for dogs and the most comprehensive line of Raw frozen and freeze-dried treats and food for cats, called Vital Cat™. And competitors take notice, scrambling to keep up with the number and variety of new Vital Essentials products rolled out each year.

The pace and breadth of new items introduced since 2016 alone is impressive with 42 new products, comprised of 21 new dog treats, snacks and food, and 21 new cat treats and food. These new and innovative product introductions have made a direct impact on the company's growth and success.

PREMIUM, LIMITED INGREDIENT PRODUCTS – MADE IN THE USA
Unlike others in the pet food space, all Vital Essentials branded products are made from single-sourced, whole animal proteins procured from USDA certified suppliers. The company displays "Proudly sourced, made and packaged in the USA" on its product packaging to reinforce consumer confidence in the quality of its' pet food. Products are made with no added hormones, antibiotics, fillers, flavorings, artificial preservative, colors, synthetic vitamins, minerals, or rendered by-products; furthermore, all products are Certified Gluten Free® and grain free.

This attention and commitment to quality carries throughout the entire manufacturing process. Carnivore Meat Company is the only pet food manufacturer in the world that has earned the following certifications: EU Certified and GFSI-FSSC 22000 (ISO) Certified, and all certifications are voluntary!

MISSION
We believe that every dog and cat in the world; regardless of financial means, urban or rural, deserves the opportunity to have access to the finest food available. We also believe that, other than natural prey, we provide the most healthy, delicious, innovative and biologically appropriate, commercially available pet food in the world. Therefore, we will leverage our God-given talents, passion and resources to do whatever is necessary to ensure that every dog parent or cat parent who wants us or needs us will have a convenient and effective mechanism to access and procure our "World Class" pet food and treats, in the United States and around the world.