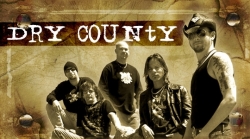 Brantford, Canada, August 12, 2008 --(
PR.com
)--
Dry County
, one of Canada's top independent country rock bands, has been quietly making noise in their small backyard for many years, selling out local venues and building an army of loyal country music fans. Their success however has been bitter sweet, never getting mainstream acceptance because their sound was considered "too edgy" by the industry. On Saturday August 9, 2008, Dry County finally broke from the shackles and muzzles of the music industry to have their cult single "Waitin On Hank" debut as an entrance song for super heavyweight UFC fighter, the "Texas Crazy Horse" Heath Herring.
Millions of MMA fans from around the world finally got the chance to hear, what many call a rant against the industry, the song Waitin On Hank and its infamous chorus line "You don't pee with the puppies and crap in the big dog's yard." Jeff Gallagher, frontman of Dry County says "Hank was inspired by years of frustration and rejection as an artist trying to break into an industry that frowned on edgy bands."
Ironically it's this same edge that hooked UFC fighter Heath Herring to "Waitin On Hank." The song calls out for a new savior to come and restore order the traditional way by "laying a little senior boot to ass," paying homage to Johnny Cash and Hank Williams.
The song "Waitin on Hank" is somewhat controversial because of its non-radio friendly lyrics but more so because it's a shot against the industry. Its message resonates with many independent artists who similarly face the same struggles and challenges. Dry County has opened up for every major label country act in Canada but could never get the break they deserved.
Their fanbase continuously grows fueling underground demand for their music. Creative songwriting, honest lyrics, coupled with an album packed with some of the catchiest songs is testament that you cannot hold down this "tough as nails act" for long. Their song "Waitin On Hank" now shares the same UFC entrance music charts with country music legends Johnny Cash and Hank Williams Jr.
About Dry County:
Dry County hails from Brantford ON and has recently completed their first Nashville tour. Their hit single "Waitin On Hank" tops the charts for Most Downloaded MP3 on indieSolo.com and was MyxerTones Ringtone Pick of the Day. They are currently writing a song for the Nashville Predators and were invited to play two shows at Las Vegas Bike Week Oct 2-5, 2008. Their music can be heard on myspace.com/drycounty and purchased at Cdbaby.com. For inquiries, interviews, and bookings contact Dry County Management at johnnyi@indiesolo.com.
###