Stop Smoking, Read the Signals
James Gerdeman encourages readers to stop smoking using the signals from developing the habit and life gripping addiction to nicotine. He shows the change that has developed when society reads the signals with Print-on-Demand Availability of Smoke Signals You Too Can Quit at Lulu.com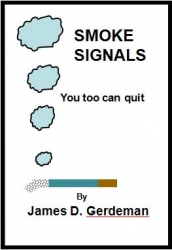 Coral Springs, FL, August 14, 2008 --(
PR.com
)-- James Gerdeman tells the story of how society provided the pressure to start smoking and now is providing pressure to stop. Using examples of family members and friends, the stories demonstrate how you too can quit. All aspects are pursued to give the reader motivation to choose the healthy way and the tools to stay the course. The publication of Smoke Signals You Too Can Quit is in conjunction with Lulu, the world's fastest-growing provider of print-on-demand books.
Smoke Signals You Too Can Quit is an autobiographical and historical account of real life drama found among the family and friends in a society that is changing. He recounts how many people could not read the signals but now with help others do. Society once thought smoking represented health, wealth and success but found it now represents failure, addiction and death. Real stories about real people help the reader relate to the smoke free life. Consequences of smoking are demonstrated through specific examples of close relatives and friends. Individuals can see how the tools can assist them and they are given an expectation of what might happen when they quit. Read Smoke Signals You Too Can Quit.
James Gerdeman wrote Smoke Signals You Too Can Quit as a project in honor of his wife, Mary Jo, who has long been an advocate for no smoking policies. She was way before her time in that thought. The life we share has provided many opportunities for material for this project.
Jim came to Lulu because he found there was a well thought out online support for what he and Mary Jo wanted to accomplish. Smoke Signals You Too Can Quit is available for purchase at www.lulu.com, in a marketplace filled with other unique surprises.
Link to Publication*:
www.JDGerdeman.com
About Author
James Gerdeman graduated from Kalida High School and earned an Industrial Engineering degree from the University of Dayton. His book Jimmy, about boys growing up in the 50's, has entertained many. His first book, Radio Frequency Identification Application 2000, was published by Research Triangle Associates.
More information at www.JDGerdeman.com.
About Lulu
Founded in 2002, Lulu is the world's fastest-growing print-on-demand marketplace for digital do-it-yourselfers. Please see www.lulu.com for more information.
###
Media Contact: James Gerdeman, jdgerdeman@aol.com, 786-256-8902.
Contact
JDGerdeman
Jim Gerdeman
786-256-8902
www.jdgerdeman.com

Contact