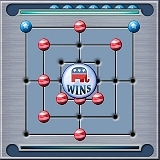 Bellingham, WA, August 18, 2008 --(
PR.com
)-- For a limited period, Triples Election Edition will be available for download. This special edition of Triples features all the capture and fun of the original version, but with political party extra features. Play either as a Democrat or Republican (sorry no independents here). The game board is enhanced with stars and stripes pieces in this tongue and cheek version of the classic game Mill.
Triples Election Edition is available for Palm OS® 5 Hi-Res Devices and Treos and is priced $14.95. Owners of a registered copy of Triples (original version) can download the Election Edition for free. Detailed information and a free trial version are available at http://www.smartboxdesign.com/triples.html
About Smart Box Design
Smart Box Design LLC, based in Bellingham, Washington, creates exciting high-quality strategy games for mobile users. Smart Box Design develops and publishes games for iPhone, Palm Powered, and Windows Mobile handheld and smartphone devices, including the Treo line. The company's games include the award winning WordPop!, Triples, Farkle Dice, Word Watch and Word Monaco Solitaire. For more information about the company, visit www.smartboxdesign.com.
###