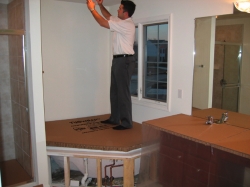 Harrison Township, MI, September 04, 2008 --(
PR.com
)-- Blake Products has patented the perfect solution for protecting bathtubs while construction, remodeling, and building is going on in your bathroom. This product is not only a lifesaver for builders but it is also a green building product.
Tubwrap is the new product and it will hold 1237 lbf per square foot and help protect your reputation as a builder when it comes to the accidental chipping and scratching of tubs during construction. Many builders have suffered the stigma of ruining someone's prize tub during a remodeling or building project.
This new product will save the tub and the builder's reputation at the same time. Blake Products is a manufacturer of protection products for surfaces. They manufacture these products for contractors, builders, and remodeling contractors.
Blake Products is no stranger to the protective covering business. They have a full line of products designed to keep the construction home free of scratches, dents, and even paint splotches.
Their latest innovation, Tubwrap simply slips over any bathtub or shower floor and you have immediate protection for the tub. The great thing about Tubwrap is it is made of a material that is so strong you can stand on it.
Started as the solution for the damages that were being inflicted upon bathroom fixtures during the construction phase, co-founders Ray Blake and Mike Blake started Blake Products in 2001. Blake Products new Tubwrap is now being distributed all over the world by companies such as Ferguson Enterprises, Stock Building Supply, Masco Contractor Services, Surface Specialist Systems, Hajoca Corporation, White Cap Construction Supply, and United Building Centers/ProBuild.
Keeping bathtubs from being used as trash cans as well as keeping all the debris out that can accumulate during the construction phase is another priority. Since studies show 70% of bathtubs are damaged during a remodeling or construction job, this was the perfect solution to this problem.
If you think this would be the solution to your problems and would like to know more about these products, simply click on
www.surfaceprotection.com
###