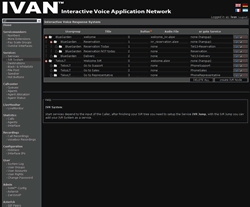 Vienna, Austria, August 26, 2008 --(
PR.com
)-- ZaKoTel Telekommunikations GmbH released IVAN™, an Enterprise Carrier grade call centre management solution that combines the call distribution capabilities of an Automatic Call Distribution (ACD) system with the data collection capabilities of IVR technology, all in one easy-to-use web interface for x800 Numbers, International DID's and Premium rate numbers.
Interactive Voice Application Network is an Enterprise Carrier grade platform to handle IVR-, Call centre- and Call distribution- services for x800 Numbers, International DID's and Premium rate numbers.
IVAN™ makes use of the freely available Asterisk® Open Source and will be delivered inside asterLive™, a live CD, it can be run straight from the CD without installation, asterLive™ use Debian Etch 4.0 as Operating system and includes Apache, MySQL and PHP. asterLive™ supports all major
ISDN HFC-S, Digium® and Junghans® phone cards and there plagiarisms which are available on the market.
"With IVAN™ you do not get a standalone Call Centre Solution, you get a complete IVR, routing and interactive telephony platform on which you can combine all features on a modular basis", says Alfred Kohl, CEO of ZaKoTel GmbH.
Powerful, Feature-rich solution
with features, security and reliability equal or surpassing any on-premises system, IVAN™ is powerful enough to meet the needs of even the largest corporations. IVAN™ can be deployed faster and more affordable than any other alternative on the market.
IVR is a technology that automates interaction with telephone callers. Enterprises are increasingly turning to IVR to reduce the cost of common sales, service, collections, inquiry and support calls to and from their company.
IVR solutions enable users to retrieve various information including flight schedules, product details, order status, movie show times, and more from any telephone. Additionally, IVR solutions are increasingly used to place outbound calls to deliver or gather information for appointments, past due bills, and other time critical events and activities.
Comprehensive description, free download and a forum for the products of the asterTools™ Suite are available at:
http://www.astertools.com
IVAN™ is the second part of a suite of products developed by ZaKoTel called the asterTools™ that is a collection of software around Asterisk® Opens Source PBX with the goal to offer easy-to-use enterprise functionality at a fair pricing model.
asterLive™ is a Debian Etch-based LiveCD as well as an installation medium for Asterisk 1.4 based VoIP systems. Upon installation, the system installed with asterLive™ includes a 100% compatible Debian Etch 4.0 system, including Asterisk v1.4 (+ addons for Realtime and CDR logging to MySQL database), zaptel kernel drivers (+ drivers for HFC-based ISDN cards) usable with the most recent Debian kernel, all tools needed to run a PBX system, as well as the asterTools™ products.
About ZaKoTel Telekommunikations GmbH:
ZaKoTel Telekommunikations GmbH, located in Vienna/Austria, is developing and integrating solutions around Asterisk® OpenSource PBX since 2006. The combination of traditional telephony and VoIP is the primary goal of ZaKoTel.
Further information about the company as well as downloads can be found at:
http://www.astertools.com and http://www.zakotel.com
###