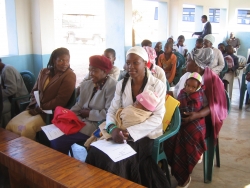 Atlanta, GA, August 29, 2008 --(
PR.com
)-- The Malaria Foundation International is pleased to report the expansion of the End Malaria – Blue Ribbon campaign to the northern region of Botswana, where malaria persists. The Student Leaders Against Malaria (SLAM) partnership developed by Mr. Tommie Hamaluba, a computer technology teacher from the Gaborone Secondary School (GSS) in Gaborone, Botswana, and teacher Mr. Bill Meyers, from the Alexander Dawson School in Colorado, USA is responsible for the delivery of long-lasting insecticide treated bednets and malaria educational messages to the community, prior to the start of the rainy season when malaria will once again become a significant threat to the community.
A village meeting held in the morning, with ceremonial speeches and local entertainment, was followed by a house-to-house malaria educational campaign and exchange of knowledge. The students shared their knowledge about prevention and treatment of malaria with the people living in the village, and visa versa. Knowledge gained from the village with regards to current malaria prevention and control methods will be passed on to authorities to support the ultimate management and elimination of the disease in the area. One message relayed by a local nurse is that malaria carrying mosquitoes do not only bite during the night when people are sleeping, and thus the continued discovery and application of preventative methods other than bednets is critically important.
Broad support was shown by government officials, whom attended the village meeting and subsequent campaign events, including house-to-house visits. They demonstrated their commitment to the people of Botswana to End Malaria and they also empowered the student leaders who were present from Botswana and the USA. Hundreds of cases of malaria can be expected in the Lesoma village and surrounding areas in the coming months, but these can largely be prevented with the use of insecticide-treated bednets and other precautions. The use of insecticides, timely diagnosis, and proper treatment with artemisinin combination therapy were also being promoted in the community.
Development of Internet resources in the community so that village members could be in touch with the world as active global citizens, use e-mail, and access knowledge with regards to malaria and other pertinent educational, business and political issues, was also emphasized as important.
For further updated information and photos from this campaign, please visit www.malaria.org and the student's blog at http://ads-gss.blogspot.com
Contacts:
Dr. Esmeralda Meyer, Outreach Director
Malaria Foundation International (MFI)
E-Mail: MFI@malaria.org
###