Punky Moms Launches Online Alt Bazaar Marketplace
Site Fills Marketplace Void for Unique and Alternative Clothing, Crafts and Creations.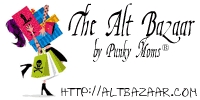 Alexandria, VA, September 10, 2008 --(
PR.com
)-- Punky Moms ® (http://punkymoms.com), the premier online community for free-thinking alternative parents seeking friendship and trusted resources from similar-minded parents across the globe, today announced the launch of The Alt Bazaar by Punky Moms©, a marketplace which serves as both auction and store front for those buying and selling unique clothing, jewelry, crafts and creations.
The Alt Bazaar, which is found at:
http://AltBazaar.com
, does not require registration at PunkyMoms.com to have access to the creative, unique wares that abound on the site. Aside from handmade creations, the site also features areas for electronics, furniture, books and vintage items.
Punky Moms has chosen to launch The Alt Bazaar just in time for Halloween and encourages you to explore the site just in time for "the other" favorite holiday season.
Punky Moms was brought to life in April 2002 as a meeting place for alternative parents to find like-minded friends and neighbors, vent frustrations and swap anecdotes and beauty secrets. But most of all it provides a place where alternative parents can be themselves - not try to fit in some mold someone decided was the right way to parent.
So just what is a "Punky Mom?" Jennifer, Winter and Sarah (the owners) feel that a Punky Mom is a lot of different things, and no two Punky Moms are alike. While some Punky Moms have piercings and tattoos, others choose to cloth diaper, make their own baby food and practice attachment parenting and some do it all. Co-owner Winter Rosebudd had this to say about what a Punky Mom is: "We are not just Punkers anymore, we are now parents, with the same passions that we always had to make living on this earth a better place. When it comes down to it, we are just open-minded moms, who love raising children – it's simple, back to the basics parenting – without judgment. Everyone is welcome."
###
Contact
The Alt Bazaar by Punky Moms
Sarah Fanning
202-415-1474
altbazaar.com
syfanning@gmail.com

Contact