Renasis Releases Outdoor SAP36g High Powered Access Point
The Outdoor SAP36g provides robust all-weather performance from its powerful SAP36g radio.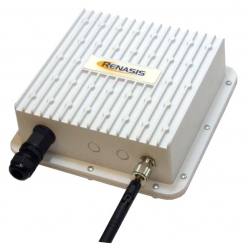 Provo, UT, September 17, 2008 --(
PR.com
)-- Renasis, LLC, a leading technology innovator specializing in the design, development and manufacture of wireless communications products, now offers the Outdoor SAP36g, the rugged all-weather version of its popular and powerful indoor 820 mW radio.
"The Outdoor SAP36g gives the same outstanding performance as the indoor unit," said Ki Chun, president of Renasis. "And coupled with our ODU-08 outdoor enclosure, it offers more strength and durability than any other outdoor unit out there. Plus it's easy on the eyes!"
The Outdoor SAP36g features a true 820 mW radio with outstanding speed, penetration, and reliability, coupled with a light weight, durable die cast aluminum, IP69 rated housing for rigidity and longevity. This outdoor unit features UV/weatherproof paint, a waterproof hermetic seal with EPDM rubberized gasket, built-in heat sink for heat transfer, a NEMA 6 rating, and material compatibility for corrosion resistance. Flexible mounting options, including wall mount or incrementally adjustable pole mount, are available. Optional hinges maintain weatherproof integrity.
The Outdoor SAP36g is available for purchase now. Volume discounts are available. For more information, call 801-407-1300 or visit Renasis at www.renasis.com.
About Renasis
Renasis, LLC, specializes in the design, development and manufacture of wireless communications products, services and system solutions. Established in 2003 to meet the growing need for products which extend the reach of Wireless Local Area Networks (WLAN), Renasis' suite of broadband, high-speed wireless products includes amplifiers, access points, cables, antennas and a variety of wireless accessories. Experts in the innovation and implementation of wireless technology, Renasis provides OEM/ODM design services to a growing number of premier manufacturers.
Renasis is headquartered in Provo, Utah, and can be reached at 801-407-1300 or
www.renasis.com
.
###
Contact
Renasis
Beth Chun
801-407-1300
www.renasis.com
Cell phone: 801-358-7199

Contact