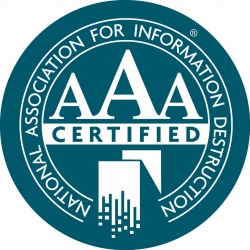 Wellesley, MA, September 19, 2008 --(
PR.com
)-- LifeSpan Technology Recycling today announced that it is among the first four companies to successfully complete the new security certification program for companies that provide computer hard drive sanitization services. The certification program was developed and is managed by the non-profit industry watchdog organization the National Association for Information Destruction (NAID). The program verifies the security of the company's facilities, chain of custody and audit trail, while a separate independent forensic testing lab verifies the effectiveness of their quality control and overwriting process. NAID already certifies over 360 member locations that provide physical destruction of media, but has only recently developed a separate certification program for companies who sanitize (overwrite) computer hard drives.
According to NAID Executive Director Bob Johnson, "LifeSpan is to be commended for providing the reassurance of NAID Certification to their customers. Clients need to demonstrate that they have an established criterion for selecting service providers that will process and protect personal information. Using NAID Certification as an element of that selection process establishes that criterion, fulfilling their regulatory requirement."
LifeSpan President Dag Adamson stated, "Our successful completion of the NAID certification program further demonstrates LifeSpan's leadership in the data destruction and asset retirement industry. This achievement, coupled with our recent hiring of Corey Harnish as V.P. – Operations, underscores our commitment to provide the highest levels of operational quality and data security to our customers."
For more information about LifeSpan's Information Destruction Services, please go to:
http://www.lifespanrecycling.com/site/content/info_destruction.asp
About LifeSpan Technology Recycling:
LifeSpan Technology Recycling is a managed services company that provides electronic asset retirement and data destruction services to corporations, municipalities, and not-for profit organizations nationwide. LifeSpan offers companies and organizations the flexibility of handling large quantities of equipment with a customized program. We also manage a full range of end-of-life information security issues for our clients. LifeSpan works exclusively with EPA-registered and regulation-compliant partners to maintain the highest standards of environmental protection and ethical business practices.
www.lifespanrecycling.com
Contact:
Brooks Hoffman
Chief Financial Officer
LifeSpan Technology Recycling
(781) 239-8154
brooks.hoffman@lifespanrecycling.com
About NAID:
NAID is a non-profit trade organization of the information destruction services industry whose mission is to champion the proper destruction of confidential materials by promoting industry standards and ethics.
www.naidonline.org
Contact:
Debra Minghi
Director of Communications
NAID
(602) 788-6243 x 205
dminghi@naidonline.org
###