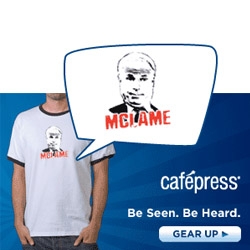 San Francisco, CA, September 25, 2008 --(
PR.com
)-- People across the political spectrum are passionate about their beliefs, and the 2008 presidential race has driven that opinionated audience to the Internet. Mojave Interactive (
http://www.mojaveinteractive.com
), an agency that works with leading brands, has helped online customized merchandiser CafePress (http://www.cafepress.com) capture the excitement of this historic election with a compelling campaign of its own. It has launched the "Sport Your Support" contests, benefiting Rock the Vote and encouraging their customers to express themselves and their views in a visible way through the creation of an original t-shirt design or political slogan—and by doing so, making a difference and getting involved.
"Wearing an interesting political shirt can spark debate, even without a word being said" says Robert Gourley, Creative Director of Mojave. "The goal of this campaign was to show how CafePress allows you to fully express your individuality, like blogging on your chest. People can express themselves with any message in the 150 million unique products CafePress offers—or create their own."
Mojave Interactive played a key role in the development of the concept for this CafePress campaign, from creating the "Sport Your Support" message and contest microsite to developing a provocative, colorful ad campaign built around the taglines "Wear do you stand?" "Be Seen. Be Heard" and "Show Yourself." The ads, featuring humorous and heated debates waged exclusively through people's t-shirts, were designed to be "conversation starters" that got CafePress customers fired up before they even hit the site.
Aside from building a creative buzz, the Mojave promotional campaign for the "Sport Your Support" campaign has helped drive traffic to CafePress and showcase the vast amount of political gear available on its site. Both McCainiacs and Obama Mamas alike can find well over a half-million different user-generated products for their candidates. "These contests celebrate creative voice and political inspiration," said Amy Maniatis, VP of Marketing for CafePress.com. "Much like the enthusiasm we've seen from the general public around the election, we are confident artists will come out in droves to create catchy designs and slogans as we raise funds for Rock the Vote."
About Mojave Interactive
Mojave, an interactive agency based in San Francisco, works with leading brands to create engaging experiences that go far beyond the banner. It was founded by Creative Director Robert Gourley and has created viral ad campaigns for such brands as Whole Foods Market, Bio-Rad, Elephant Pharmacy and Nimblefish. Mojave specializes in creating engaging advertising experiences that live across multiple media. Mojave develops branded entertainment that inspires customers to become advocates, and uses social media to build community around brands.
About CafePress
CafePress is the leader in User-Generated Commerce and offers sellers turnkey e-commerce services to independently create and sell a wide variety of products, and offers buyers unique merchandise across virtually every topic. Launched in 1999, CafePress has empowered individuals, organizations and businesses to create, buy and sell customized merchandise online using the company's unique print-on-demand and e-commerce services. Today, CafePress is a growing network of over 6.5 million members who have unleashed their creativity to transform their artwork and ideas into unique gifts and new revenue streams.
CafePress has been tracking the sales of political T-Shirts and election merchandise supporting Presidential candidates on their 2008 Election Meter (http://www.cafepress.com/cp/buy/elections08_meter).
For more information visit CafePress at www.cafepress.com.
Media contact:
Robert Gourley
info@mojaveinteractive.com
Phone: 888.401.1144
http://www.mojaveinteractive.com
###