Negative Campaign Ads Have Surprising Impact on Voters' Feelings About the Candidates, According to SenseUs™ Emotional Polling
Negative political campaign ads rarely improve feelings about the sponsor, except in the case of an anti-McCain Ad sponsored by Obama.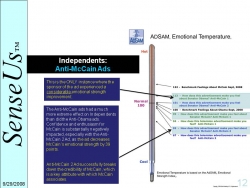 Gainesville, FL, October 02, 2008 --(
PR.com
)-- Negative campaign ads rarely benefit the ads' sponsors, with the exception of one Barack Obama ad targeting John McCain.
A study of emotional reactions by SenseUS(TM) of two anti-Obama and two anti-McCain ads reveals that the only ad that stimulated much response from independent voters was an Obama commercial targeting McCain.
In that commercial, Obama challenged McCain's reasoning for asserting that America is better off than it was eight years ago. The advertisement questioned McCain's credibility, a key asset of his candidacy. The ad also positioned McCain as out of touch with the needs of the American people, an assertion that resonated with independents.
Unlike most polls, which test only rational responses to political issues, SenseUS(TM) is a premier measure of emotional connections, using nonverbal visual techniques to accurately assess how voters feel about the issues and the candidates. This technique has been used since September 2007 and has been shown to accurately predict election trends and results.
While independents' reactions to the anti-Obama ads were not as extreme as to the one anti-McCain ad, an anti-Obama ad that sought to position Obama as a celebrity who lacks experience to lead the country created a substantial negative emotional impact with independents.
However, only the Obama ad challenging McCain's credibility significantly improved the standing of the sponsor.
All the polling results can be found at
www.SenseUs.net
SenseUS™ uses the AdSAM® (
www.adsam.com
) technique of emotional response and the Itracks (
www.itracks.com
) gathering system.
###
Contact
SenseUs
Jon Morris, PhD
(352) 371-3737
www.SenseUs.net
Conrad Morris
(800) 563-8654
conradmorris@adsam.com

Contact