American Academy of Pediatrics Launches Pediatric Care Online™
Point-of-Care Information Solution for Pediatricians Available via PDA, Web, and Wireless Powered by the Unbound ™ Platform.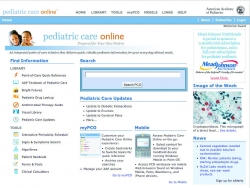 Elk Grove Village, IL, October 06, 2008 --(
PR.com
)-- American Academy of Pediatrics (AAP), the leading professional organization representing healthcare professionals caring for infants, children and adolescents, and Unbound Medicine, a leader in information resources for healthcare providers, announced the launch of
Pediatric Care Online
™. Created especially for pediatricians and pediatric residents, the point-of-care solution integrates AAP reference content with Unbound's award-winning platform making the site easy to access using a personal digital assistant (PDA), a wireless device, or the Web.
Pediatric Care Online is designed around the daily clinical needs of pediatric offices. At the heart of Pediatric Care Online's content are three of the AAP's most relied-upon practice resources: the new AAP Textbook of Pediatric Care, which is the standard reference of its kind; content from the AAP's Red Book®, which provides detailed information on more than 200 childhood infectious diseases; and Bright Futures, the organization's comprehensive health supervision guidelines.
The Unbound™ Platform from Unbound Medicine, a leader in knowledge management solutions and mobile information resources for health care, is a powerful platform that supports end-to-end digital publishing activities from content creation through multi-platform electronic delivery. For Pediatric Care Online, the Unbound Platform's editorial module, uPub™, facilitates streamlined creation of modular content via distributed author networks. For users, the Unbound Platform delivers content where and when it is needed—to personal digital assistants (PDAs), the Web, or wireless devices.
"Through our partnership with Unbound Medicine, we can help pediatricians get quick answers to clinical questions using the AAP content that they trust. Pediatric Care Online includes practice guidelines, alternative differentials, treatment algorithms, and patient education," said Maureen DeRosa, MPA, Director, Department of Marketing and Publications at the American Academy of Pediatrics.
"Homepage content is provided in an easy-to-use format that also enables quick access to the recently updated AAP Guidelines for well-child visits, forms and tools, an antimicrobial therapy guide, clinical calculators, and a visual library.
"Pediatricians today need instant access to expert advice, guidelines, and evidence-based tools in order to provide optimal patient care," said Bill Detmer, MD, president of Unbound Medicine. "Pediatric Care Online provides all these features in one package and delivers it wherever it is needed – at the bedside, in the office, or on a mobile device."
To preview the many features of the site and download a free trial of the mobile version, visit www.pediatriccareonline.org.
The American Academy of Pediatrics is an organization of 60,000 primary care pediatricians, pediatric medical subspecialists and pediatric specialists dedicated to the health, safety and well-being of infants, children, adolescents and young adults. Learn more at www.aap.org.
Unbound Medicine, Inc. develops next-generation knowledge management systems for healthcare. The company's handheld, wireless and Web-based technology platform and information architecture services help partners provide healthcare professionals with advanced systems for acquiring, managing, and sharing knowledge. Additional information is available at www.unboundmedicine.com.
###
AAP media contact:
Kim FitzSimmons
847-434-7114
kfitzsimmons@aap.org
Unbound Medicine media contact:
Brian Cairy
610-627-9090 x238
bcairy@unboundmedicine.com
Contact
American Academy of Pediatrics
Kim FitzSimmons
847-434-4000
aap.org
Unbound Medicine media contact:
Brian Cairy
610-627-9090 x238
bcairy@unboundmedicine.com

Contact