My Yoga Online Provides Health and Wellness Content for Air Canada's In-Flight Entertainment System
My Yoga Online and Fresh Eye Productions, Inc. is proud to announce its partnership with Air Canada as Health and Wellness video content provider to the airline's In-Flight Entertainment systems, with a series of programs designed to help passengers refresh and relax mid-flight.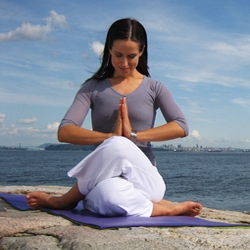 Vancouver, Canada, October 09, 2008 --(
PR.com
)-- The ancient practices of Yoga and Meditation are highly effective in a travel environment where people are confined to a small space for extended periods of time. Passengers can enjoy a better travel experience while learning tools that can be used both on and off the plane.
"The comfort of Air Canada's passengers is of paramount importance," said Katrin Kopvillem, Managing Director and Publisher, Spafax Canada Inc. "By offering the travel-focused practices of My Yoga Online on the In-Flight Entertainment System, Air Canada is able to provide a relaxing programming block that complements the comprehensive selection of movies and television shows available to passengers to enjoy."
"We are very pleased to offer our travel-specific practices to Air Canada passengers," Director of Marketing for My Yoga Online, Michelle Trantina stated.
"One of our goals at MYO is to expand the knowledge and experience of Yoga and Health & Wellness throughout the world. In an airplane environment where people may be prone to anxiety and physical stiffness or tension, these types of practices provide the opportunity to create a much more positive flying experience; reducing stress and stiff muscles, clearing the mind, improving physical and mental well-being "
Some in-flight program titles include:
***Aerosleep Meditation***
Through hypnosis and meditation, the listener is transported into a state of deep relaxation conducive to sleep to reduce the effects of time zone variance (Jet Lag).
***Seated Stretch and Restore Flow***
A gentle stretch and relaxation program designed to improve circulation, enliven the body, and awaken the mind. This practice aids in preventing travel related ailments such as Deep Vein Thrombosis.
***Freedom From Flight Anxiety***
A three part total freedom from stress program:
1. Body: relax and unwind
2. Breath: develop a strong nervous system
3. Mind: find total freedom from anxiety.
***The Secrets of Energy Management***
Exploring how and why energy travels and becomes blocked in the human body / mind. Learn techniques to encourage better energy flow and state of mind while traveling in a plane.
These practices are a few of a large library of Yoga and Meditation video practices available at MyYogaOnline.com where they can be accessed via streaming, or downloaded to a DVD or MP3 player, for use anytime, anywhere.
The chair used to simulate in-flight sitting positions was provided by Vancouver's Inform Interiors.
My Yoga Online is currently in production on a new series of videos to begin airing next month on Air Canada's Health and Wellness channel.
About My Yoga Online
www.MyYogaOnline.com
has been sharing their knowledge of yoga and health and wellness since its inception in 2005. My Yoga Online provides top quality convenient, flexible and affordable Yoga, Pilates and Meditation video and audio programs. They offer a wide variety of video and audio practices in meditation, yoga, Pilates, workplace wellness, and holistic nutrition, via streaming on the Internet and for download to DVD or mp3 player. My Yoga Online is proud to be a part of developing health and wellness awareness around the world, and is currently expanding its reach beyond the Internet to corporate wellness programs, airlines, and cable networks.
Spafax Canada Inc is the exclusive provider of in-flight entertainment for Air Canada, and the publisher of enRoute, Air Canada's award-winning in-flight magazine.
###
Contact
My Yoga Online
Michelle Trantina
604-317-2787
http://www.myyogaonline.com

Contact