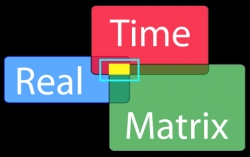 Berkeley, CA, November 05, 2008 --(
PR.com
)-- Join leading industry experts, Saturday November 8th, in a live-cast conference discussion around two issues that are central to doing business in social networks:
-Brand safety in social networks
-Effective distribution of quality content and advertisements in social networks
They've selected a small group of top leaders and visionaries in publishing, advertising and content distribution for an intimate discussion about what is current and what is next for marketing in social networks. They will be live-casting the discussion over the Web, via UStream.tv, so that anyone who registers has the opportunity to share in the experience. Also, Real Time Matrix will produce a Summit Vision document for free distribution that expresses the topics and findings they share during the discussion.
The format will include presentations and panel discussions from participants at the cutting edge of social media and micro-broadcasting such as netvibes, Social Media Today, Pop17, Abigail's Teen Diary, and more.
If you would like to attend the Summit in person, please indicate that in your registration. Attendance is limited to a small group in order to facilitate an intimate discussion atmosphere. Live-cast participation is unlimited, so everyone is welcome.
www.RealTimeMatrix.com/Summit
###