Global Economic Crisis Requires Immediate Action by World Citizens
Take action now to prepare for economic crisis of record proportions.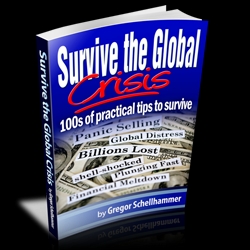 Barcelona, Spain, November 09, 2008 --(
PR.com
)-- The world over, billions of people are concerned about the state of the global economy. Many experts agree that an economic collapse is on the way. Many feel that too much damage has already been done for anyone's plan to rescue the world markets from an insurmountable crisis.
The world may be focused on the dominant economic centers, but the trouble is not isolated to Wall Street or other global markets. When financial systems are in trouble, everyone suffers. Today's world markets are tightly linked. When one of them suffers, this causes a domino effect that will not only create devastation to businesses, but can also create lasting and difficult problems for consumers all over the world. No one is immune, yet very few are prepared.
In the name of preparedness, Greg Schellhammer of Barcelona, Spain has complied an ebook with hundreds of practical tips that anyone, anywhere can use to survive the coming difficulties. "Readers will receive ideas for saving money, starting their own businesses and making them thrive, psychological insights, and more," says Schellhammer. "Unfortunately, in the midst of an economic crisis, many people lose jobs. A lot of these people will want to start their own business to provide for their families, but they'll need to know how to do it and how to make it successful," Schellhammer said. In the eBook he provides hundreds of practical tips to do this. "We are in the middle of a global economic collapse. Wherever you live and whatever your background, it will effect you, your family, your kids, and your very survival." Schellhammer wants to help people from all walks of life to prepare and survive.
As many experts will tell you, we are on the verge of not just a recession, but an all-out depression. According to Schellhammer, the question we should all be asking ourselves is how ready we are. Are we all prepared to be unemployed or lose our homes? "You can adapt and survive, or you can remain stubborn and fail," says Schellhammer.
One of the goals of Schellhammer's 58-page ebook is to help people increase their monthly income by 10-30%. He says, "Depending on your determination and flexibility, you could even save a significant amount of money." The ebook can also help people increase their business activity by 10-30% to survive the global crisis.
"I'm not out to scare people or create unnecessary panic," says Schellhammer. "The more people are prepared, the better off everyone will be. We are all in this thing together. The more people survive, the more money will be pumped back into the global economy to shorten and lessen the severity of this crisis. Helping people prepare and survive is my passion."
Schellhammer's ebook is available online for $19.99. For more information about "Survive the Global Crisis," please visit Schellhammer's website at http://www.SurviveTheGlobalCrisis.com.
###
Contact
Greg Schellhammer
+34607545926
http://www.survivetheglobalcrisis.com

Contact