Teen TV, a Teen Produced Magazine Television Show to Premier at English High School, America's Oldest High School, on November 20
Jamaica Plain, MA, November 17, 2008 --(
PR.com
)-- What do 20 teens from Dorchester, Roxbury, the South End, Brighton, and Jamaica Plain have in common? They spent this past summer working full time on a new television show, Teen TV that will have its premier screening at 6 PM this Thursday at English High School in Jamaica Plain, Massachusetts.
The program is a partnership between HOME, Inc, a Boston non-profit organization and three Boston high schools, the Social Justice Academy, Brighton High School and English High School. Ten students from English, four from Social Justice Academy, and one from Brighton High teamed up with several other Boston high school students for a six week summer intensive where the students learned technical skills and wrote and produced 9 documentaries that they edited into three magazine style half hour programs.
The hard work of creating Teen TV this summer started with workshops that asked some fundamental journalistic questions: What makes a good story? Why is this story important? Who is the audience? Students took on the roles as their own producers, writers, talent and production crew as they developed their program segments, learned animation, sound mixing and editing. The students worked in field production teams that were lead by recent college graduates, and they used the Internet to collaborate and manage their projects.
Each of the schools in the partnership has been concerned that digital technologies can be accessible to their students. The Boston school department's Pathways to Academic Excellence focuses on College-ready and Success- Bound students, and Students " On-track" to graduate by the end of grade 10 as key performance measures. To get there Boston students need to be engaged and this is possible in part because of hands on programs like Teen TV that helps make education more relevant. In May 2007 the Massachusetts Board of Education reported "More than 20% of school districts have not met the guidelines set in 2004 for student access to high capacity computers. An estimated 26% of teachers use technology with their students only occasionally, if at all." Almost 44% of all students do not master technology literacy by grade 12. Teen TV helps students build their confidence and mastery around technology and media literacy.
Tenth grader Gabriela, said she learned " that we have to listen to each other's ideas because it really makes a difference. It was a great experience and it opened my knowledge to what goes on in the community."
Tenth grader Diana said "I learned to work together with everybody and how to learn from everybody else's ideas. I also learned how to finish a project with every body putting his all into it."
You can view episode 4 of Teen TV on the word wide web at http://blip.tv/file/1438017 and find out more at HOME's web page at www.homeinc.org. All three programs produced this summer will soon begin airing on Boston metropolitan area cable stations.
###
Contact
HOME, Inc.
Alan Michel
617-427-4663
www.homeinc.org

Contact
Multimedia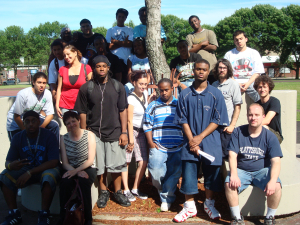 left to right rear: Lakiya Furtado- Betts, Kevin Escobar, Justin Rivera, Cesar Cleophat, Darian Clark, Fabian Zayes, Third row: Jhonneris Mendez, Ashton Bennett, Risa McKenzie, Peter Bennett, Fabian Zayas, Second Row: Wilfredo Pineda, Diana Rodriguez, Mathew Hicks, Gabby Camacho, Michael Sequiera, N