A Palm Springs Clothing Optional Vacation is More Affordable Than Ever
Everyone is looking for ways to save money, but people still want to be pampered and have fun on their getaways. This December and January, the popular Terra Cotta Inn clothing optional resort and spa has a special room sale so you can get a great all over tan and not have to worry breaking the bank.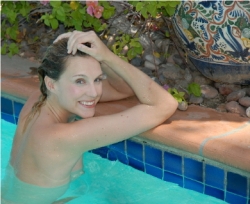 Palm Springs, CA, December 04, 2008 --(
PR.com
)-- The leaves have fallen and are raked. Thanksgiving has come and gone. The logs are all cut and stacked for your romantic winter fires. You might have even shoveled the first snowfall of the season. There is just one more task, and it's a fun one. Where do you go for a vacation this December or January?
Ski vacations are OK, but they're expensive. Plus, you need to escape the cold and snow. Go someplace sunny and warm instead.
This year is also different financially. Expensive, flashy vacations in the Caribbean that leave you with an empty wallet are out. It is time to stay in the good Old USA at an affordably luxurious, fun resort.
For a new, fun, and exciting vacation, try a clothing optional vacation in sunny Palm Springs, CA at the popular Terra Cotta Inn Clothing Optional Resort and Spa.
http://sunnyfun.com
Nothing beats vacationing in the USA at a great resort that is easy to get to and is located in a famous city with lots of things to do.
You're probably thinking, "We can't book at a nudist resort, we're not nudists." No problem at The Terra Cotta Inn.
"About 90% of our guests don't consider themselves nudists," says Tom Mulhall owner with his wife Mary Clare of The Terra Cotta Inn and past president of the Palm Springs Chamber of Commerce. "Our guests are regular people. Teachers, doctors, nurses, pilots, executives, entrepreneurs, firefighters, police, tradesmen, democrats, republicans, etc. All ages from 21 to 80 and all shapes and sizes. We are where people from around the world come to experience nude or European style sunbathing for the first time, and then fall in love with our resort and come back year after year."
The Terra Cotta Inn is the most mainstream clothing optional resort in the US and is perfect for couples trying topless or nude sunbathing for the first time.
Guests love it there. They average over a 75% repeat guest rate which is one of the highest in the travel industry. Guests come from all over the US, Canada, England, and Australia as there is no other nudist resort in the world quite like them.
And the press loves the Terra Cotta Inn too. Just this July, Tripadvisor.com picked them as one of the 10 best clothing optional resorts in the world. And in October, the Vancouver Sun newspaper in Canada picked them as one of the best places in the world to go nude sunbathing.
Why is the Terra Cotta Inn the most popular nudist resort in Palm Springs? "It is all about making sure that women feel very comfortable with their first nude sunbathing experience, Mary Clare explains. "If a women is told to go nude before she is ready (most nudist resorts have this rule), she will never visit another nudist resort or nude beach again. We allow women the option to go topless first and nude sunbathe on their own terms when they are ready. And 99% of our guests end up nude sunbathing. That old expression 'happy wife - happy life,' is very true on vacation."
From working hard to make their guests feel comfortable to their amenities, no other nude resort in America compares to them. First their resort is in Palm Springs, the warmest, sunniest city in the US. With less than 3 inches of rain a year, there is no better city to go nude sunbathing in.
Amenities include large rooms, top of the line beds and linens, free wifi, free parking, microwaves and refrigerators, DVD players and free video library, complimentary Starbucks or Godiva blend coffees, complementary breakfast and afternoon snacks, 24 hour a day pool and whirlpool, state of the art heated salt water swimming pool and jacuzzi that feels fantastic on your skin, poolside cooling system for those hot days and heaters for once the sun goes down, plus much more. They think of everything so you can enjoy your stay. They are the only affordably luxurious nudist resort in the US
And the only way to make your stay at The Terra Cotta Inn even more enjoyable is to run a wintertime special. This December and January (excluding the holidays), they run a "get a great all over suntan special." On Monday thru Thursday nights, stay 1 night and the 2nd is half priced. Rates start midweek at $149/couple/night and includes complimentary breakfast, snacks, and early check in (10am) and late check out (5pm) at no extra charge. And if you want to take a week long vacation like many guests, they discount their already discounted weekly rates, so it is only $859/couple/week.
Make this the year that you have your best, most fun vacation ever. Make it affordable, luxurious, and clothes free. A vacation you won't regret and that won't break the bank. Stay at the Terra Cotta Inn in sunny Palm Springs, California where tan lines will soon become just another pleasant memory. Call them at 1-800-786-6938.
###
Contact
The Terra Cotta Inn Clothing Optional Resort and Spa
Tom Mulhall
1-800-786-6938
http://sunnyfun.com

Contact