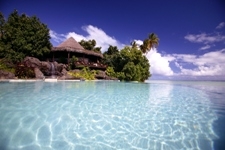 Aitutaki, Cook Islands, December 15, 2008 --(
PR.com
)-- Pacific Resort Aitutaki has just been named the 'World's Leading Boutique Island Resort' at the 15th Annual World Travel Awards final held recently in the Turks & Caicos islands.
Aitutaki's Pacific Resort, described by the awards organisers as "a secluded ultra-luxury Pacific hideaway in the Cook Islands," has placed the Cook Islands and Australasia on centre stage at what has been described by the Wall Street Journal as the "Oscars of the Travel Industry."
Pacific Resort chief executive officer Greg Stanaway says this award is considered to be a significant achievement for Pacific Resort Aitutaki, for the island of Aitutaki and for the Cook Islands.
"Quite simply it is one of the highest accolades we can expect, an award that will be great for our business and for the Cook Islands in total," says Stanaway. "Because as our guests have become more sophisticated and more widely travelled than ever before, they have also become more demanding and discerning, with higher expectations."
Voting for the World travel Awards 2008, came from 167,000 travel professionals worldwide, who in their assessments were looking for "the key factors that transform a well-run company into an excellent one" said the awards president Graham Cooke, who also explained that "Winners are judged on their ability, to understand visitor needs and expectations; maximise business performance; value personnel; undertake enterprising product expansion and development; foster innovation and creativity as well as work together as a team externally and internally."
Stanaway was quick to share the accolades with all involved saying that "Once again we are seeing the results of a total team effort, the success of Pacific Resort Aitutaki owes much to all of the people involved in the experience that is a visit to Aitutaki: whether it is a lagoon cruise on Aitutaki's famous lagoon; a visit to the Post Office at One Foot Island; a meal at a local restaurant or attending a Sunday church service; every little bit adds up. In a similar way the experience starts when our visitors board their flight, with Air New Zealand, Pacific Blue or Air Tahiti, to Rarotonga and then Air Rarotonga to Aitutaki and of course last but by no means least it is our loyal Aitutakian team at the resort who all so proudly play a role in underpinning the success of Pacific Resort Aitutaki and in winning this award."
Stanaway also acknowledged the vision of Eden Hall, Pacific Resort's founder and chairman, who pulled together the original team of creators, pioneers and visionaries who "had created the Cook Island's leading resort and also one of the world's leading luxury resorts; the only hotel/resort in all of Australasia to gain this level of World Travel Award recognition in 2008."
Log on to www.worldtravelawards.com for a full list of winners.
###