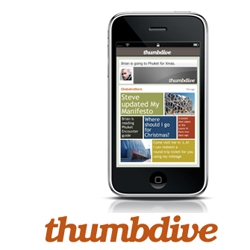 Hong Kong, Hong Kong S.A.R., December 18, 2008 --(
PR.com
)-- Social media mobile marketing company AirGini (http://www.airgini.com) has today announced the private beta launch of Thumbdive (http://www.thumbdive.com), a new iPhone and desktop PC web app for friends to interact and share content from the web's most popular social sites.
Aimed at urban professionals with active lifestyles, a global network of friends and who value their privacy, Thumbdive is a free service which enables members to feel closer to their friends and family throughout the day without having their conversations broadcast to the online world.
Unlike conventional social network style services, Thumbdive's members can control who can join their enclosed 'SharingPool', which means they can also control who can view their conversations and shared content. This control enables members to interact in a more genuine manner because they don't have to worry about their comments being read publicly.
"The web is an excellent platform for communication, but currently not enough services enable users to interact and share content without worrying about who's listening in." said AirGini's Chief Products Officer Wendy Tam. "This is why we're so excited about Thumbdive's launch, because it's specifically designed to fulfill this social & technological gap."
Thumbdive also offers advantages over conventional IM services because it doesn't require members of a SharingPool to be online simultaneously. Instead members can engage in group conversations at spare moments throughout the day on their PC or mobile.
Thumbdive also gives members control over what content they want to share and with whom. When creating a profile, they choose which social web services (e.g. Blogs, Flickr, Twitter etc) to aggregate content from into their SharingPool.
Thumbdive is currently available on a desktop PC or iPhone, with support for more internet-enabled mobiles to be added as the service rolls out from Beta mode.
Membership of Thumbdive is initially invitation only. People can receive invites from friends who are already members, or they can visit the Thumbdive website (http://www.thumbdive.com) and apply to join when more invites are released.
About Thumbdive (http://www.thumbdive.com)
Thumbdive is a free service for connecting with friends and family on a mobile or PC during spare moments throughout the day. Members create their own SharingPools in which they can interact and share content amongst their group without having it broadcast to the world. Thumbdive is designed for people who want to use the social web to connect with their closest friends, whilst also protecting their privacy.
About AirGini (http://www.airgini.com)
AirGini is a social media mobile marketing company specializing in interactive advertising which adds to the mobile experience and is welcomed by customers. Drawing on a unique blend of mobile experience advocacy and robust technology design, AirGini's innovative services enable brands and businesses to deliver engaging, interactive marketing which builds valued relationships with mobile users.
###