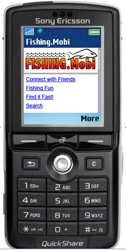 Colorado Springs, CO, January 04, 2009 --(
PR.com
)--
First Light Net
, a provider of niche internet advertising services for the fishing, hunting, sports and outdoor industries, announced today the acquisition of
Fishing.Mobi
adding to their network of over 400 outdoors web sites. The company was one of the first companies over a year ago to develop the .mobi domain for fisherman, with its launch of BigFishTackle.Mobi, a mobile phone website that allows anglers to access fishing reports, and information via their mobile handset.
Acquired through a closed RFP process with "dotMobi" (the official global registry for the .mobi top level domain) First Light Net has brought in two teams of outside developers to assist their staff and to ensure its January 2009 launch of the mobile handset web site.
Fishing.Mobi will be a "social network" mobile site that will offer users resources for researching fishing trips, techniques and providing them access to other members for advice and fishing reports while they are fishing. The site will be suited to the "dotMobi" standard requirements enabling it to be available on all enabled handsets. The .mobi ending in a domain name guides mobile consumers to sites where they'll have access to optimized content from their cellular phone.
In a recent interview Mike Hodgdon, C.O.O. at First Light Net said, "The mobile phone internet is really one of the most amazing resources in the history of "fishing". Historically anglers were limited to resources like, print periodicals that provided dated fishing reports, information friends provided, or television shows that provide general information about fishing but not specifics about the waters the angler is fishing." He went on to say. "With the launch of Fishing.Mobi anglers will have access to hundreds of hours of fishing videos, fishing reports, tips, a fishing resources directory, and wealth of tools like tide information, weather reports, but most importantly they will have literally at their finger tips, a network of tens of thousands of anglers to answer questions and provide potentially live reports on the body of water they are fishing, while they are actually fishing." The desktop computer far exceeded what conventional media like print, radio, and television offered the angler and the mobile phone takes that to the next level by offering it mobile.
An avid fisherman of over 30 years "Hodgdon's" excitement about the potential is apparent. The Fishing.Mobi website will follow First Light Net's existing model of offering anglers and outdoor enthusiasts free online services which is then monetized by offering targeted advertising solutions to companies interested in reaching the outdoors demographic.
When asked about when the mobile advertising solutions would be available to First Light Net's clients Hodgdon's response was "Our first priority is to launch the web site this month, which all seems to be coming together perfectly. That being said, we plan on launching mobile advertising solutions to existing clients later first quarter 2009 and early second quarter will roll them out completely."
According to information from the newest National Survey of Fishing, Hunting, and Wildlife-Associated Recreation, during 2006, 30.0 million people fished, 12.5 million hunted, and 71.1 million participated in at least one type of wildlife-watching activity such as observing, feeding, or photographing fish and other wildlife in the United States.
According to Nielsen Mobile, 95 million Americans subscribe to mobile Internet access and 40 million of them regularly go online with their phones.
In conclusion Hodgdon stated "It is exciting for us to continue to provide our clients the very cutting edge in online advertising solutions, we take pride in the value we provide advertisers and our commitment to making sure they are with the best possible provider of online targeted advertising solutions."
About First Light Net.
First Light Net is a wholly owned trademark of Predatorial Advertising Associates L.L.C. It is a online advertising network that specializes in servicing the fishing, hunting, outdoor and sports industries Internet needs. FLN owns the largest owned online advertising network with over 400
fishing
, and outdoors websites including popular sites like Fishing.Net, fishing.org, and bigfishtackle.com. They offer clients a wide range of services including banner advertising, featured "Retailer Showcase" ads, textual ads, targeted opt in email marketing, and newsletter sponsorship. To learn more about First Light Net, visit www.firstlightnet.com.
About dotMobi.
dotMobi (the informal name of mTLD Top Level Domain, Ltd.), a consortium based in Dublin, Ireland with offices in Washington, DC and Beijing, is leading the growth of Internet use from mobile phones with the .mobi domain name. Unique among domain name providers, dotMobi ensures that services and sites developed around .mobi are optimized for use by mobile devices. On-the-go consumers can have confidence that an Internet site or service will work on their mobile phones when using a .mobi address.
dotMobi is backed by leading mobile operators, network & device manufacturers, and internet content providers, including Ericsson, GSM Association, Hutchison (3), Microsoft, Nokia, Orascom Telecom, Samsung Electronics, Syniverse, T-Mobile, Telefonica Moviles, TIM, Visa and Vodafone. dotMobi is also a sponsor of W3C's Mobile Web Initiative.
###