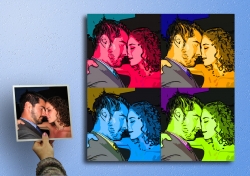 Lindenhurst, NY, January 13, 2009 --(
PR.com
)-- The holidays may be over, but how will they be remembered? Will images of fun times with family and friends languish on hard drives and memory sticks, or will they bring a smile to all who see them? Thanks to PhotoFiddle.com (
http://www.photofiddle.com
), the second option is now more likely: Using the online photo-to-art service, anyone can turn cherished holiday memories into real works of art to display year-round.
Featured on Oprah's O List, PhotoFiddle.com allows the customer to upload any digital image and in just a few seconds transform it into one of over 30 different art styles, including oil painting, watercolor, pop art, photo collage, fantasy, charcoal sketch, stained glass and more. As a testament to its quality, the company instructs each user to closely inspect the art piece at 100% magnification online before placing the final order.
Available in just about any size from eight inches square to six feet by 20 feet, PhotoFiddle.com pieces are printed onto archival paper, rolled canvas or gallery wrapped and stretched canvas using a proprietary artist's-quality giclee process. Customers can choose to have their art mounted and framed by PhotoFiddle.com or to ship it unframed.
The service has won fans nationwide—and rave reviews from the likes of The New York Times, The Today Show, USA Today and Better Homes and Gardens. Company founder Ira Gross attributes PhotoFiddle.com's appeal to the quality of its finished products.
"People like PhotoFiddle.com because it's extremely simple to use, yet even novice photographers can produce beautiful works of art that will be treasured by friends and family for generations to come," Gross explained. "We love being able to help our customers create one-of-a-kind home decor pieces and unique gifts."
PhotoFiddle.com encourages customer feedback and ideas; the company releases new art styles and design options nearly every week based on that feedback. Prices start at just $14.95, and customers can upload as many photos and try out as many different art styles as they like before ordering. Gift certificates are available, and registration is free. To learn more about PhotoFiddle.com, visit http://photofiddle.com.
Contact:
Ira Gross
PhotoFiddle.com
212-655-9633
###