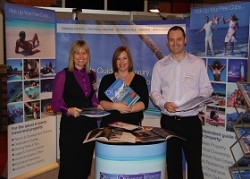 London, United Kingdom, January 20, 2009 --(
PR.com
)-- A few thousand copies were distributed during the event and many visitors stopped to chat about the topics the magazine covered which range from overseas property, through fractional ownership, private residence clubs, destination clubs and timeshare as well as boutique hotels and luxury travel.
"It was encouraging to see the number of people who passed our exhibition booth who stopped and enquired about the leisure property products featured in the magazine; and although we do not represent or sell any of the properties or products we feature, it was a good indication of the level and quality of enquiries our advertisers could expect to receive as we move forward." Said Paul Mattimoe, CEO, Perspective International Ltd.
Available free online and providing hundreds of destination and travel guides, Owners Perspective has attracted more than 10,700 subscribers in its first few months, but now it is available in print too the circulation has risen to 24,000 to incorporate property and travel shows, distribution through selected resorts and individual subscriptions.
Other exciting distribution channels are expected to be announced later this week, but with a further six travel and property shows already confirmed for 2009 and a rapidly growing subscription base it is quite clear that there is a new place for independent information on property and travel for consumers, as well as a new organic, highly targeted advertising platform for developers, marketers and suppliers.
For more information visit
www.ownersperspective.com
###