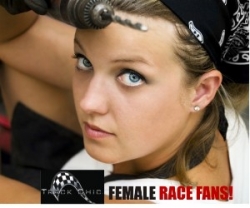 Atlanta, GA, February 03, 2009 --(
PR.com
)-- H. A. "Humpy" Wheeler, Jr., one of the foremost promoters of NASCAR® auto racing, has agreed to join Track Chic's Advisory Board. "Humpy" Wheeler is legendary in the world of motorsports. Known for his attention-grabbing promotions, Wheeler's contributions to motorsports have fueled NASCAR's success and contributed to Charlotte, North Carolina's prosperous position as the unofficial "Racing Capital of the World."
Wheeler has worked as a sports writer, a television director, an actor (as the voice of "Tex," a 1975 Cadillac Coupe de Ville, in the 2006 film Cars) and operated several dirt tracks. He was also the Director of Racing at Firestone Rubber & Tire Co. during its most visible years in the sports. He most recently was President and General Manager of Lowe's Motor Speedway.
Among his numerous awards, Wheeler has been honored as the National Auto Racing Promoter of the Year, the Hugh Deery Award for outstanding service to the motorsports industry, and the Bill France Award for outstanding achievement in auto racing. He joins an elite group inducted into the prestigious International Motorsports Hall of Fame, and is a member of the North Carolina Sports Hall of Fame; the National Motorsports Press Association Hall of Fame; and the North Carolina Public Relations Hall of Fame.
Currently Chairman of The Wheeler Co., a management consulting firm primarily focused on professional sports, motorsports and general business, he is also very involved in Wheeler TV and host of the 'Humpy Show' on the SPEED Channel.
Wheeler will serve as Chairman in 2009 of the Charlotte Regional Partnership, a nonprofit, public / private economic development organization dedicated to the growth and prosperity of Charlotte USA, a region of 2.4 million people located in North and South Carolina.
Known for his numerous philanthropic efforts and civic involvement, "Humpy" Wheeler has been instrumental in founding the country's only 4-Year Motorsport Management Program at Belmont Abbey College, near Charlotte North Carolina. Wheeler has also recently created a task force to help the racing industry's 700+ unemployed fabricators, welders and other skilled laborers find jobs.
"We are absolutely thrilled that someone of Humpy's vision and stature in the motorsports industry recognizes Track Chic's potential and has agreed to help guide us as we take Track Chic to the next level." says Theresa Earnheart, Track Chic's President and founder. "Humpy's enthusiasm, expertise and absolute love of marketing and promotions will prove invaluable as we grow the Track Chic phenomenon of female motorsports fans sharing their passion for Speed, Style and Sisterhood. Track Chic is shifting gears in motorsports, it's time for the female fans to have a little fun. With Humpy Wheeler's creative oversight, Track Chic is on the right track for success."
About Track Chic
Track Chic® is where the passion of NASCAR® meets the frivolity of Red Hat Ladies®.
Track Chic is the only company targeted exclusively to the 239+ million enthusiastic female motorsports fans worldwide who share their passion for: Speed, Style and Sisterhood.
Track Chic is shifting gears. In a sport traditionally marketed to men, Track Chic successfully fills a void and brings together and gives voice to the millions of neglected female fans. Track Chic is the first to unite brand loyal female motorsports enthusiasts and the decision making female audience.
Track Chic's mission is to celebrate the female fans and bring focus to the many women involved both behind the wheels and behind the scenes in the motorsport industry today.
Track Chic offers women their own racing news source: From NASCAR, F1, IndyCar, Grand Am and ALMS to AMA Pro. Track Chic also produces original content 'Women behind the Wheels' interviews, event videos at Track Chic TV and hosts the F1 Minute audio cast of Formula 1 race news.
Track Chic's revenue is generated by its unique business model that includes membership dues, home business opportunities, retail merchandising, trackside co-marketing retailtainment, advertising, corporate partnerships, conventions, special events and more.
Track Chic's Boutique has a unique collection of both Sassy and Classy fashions, jewelry and accessories, for savvy race fans wanting more than typical T-shirts. Track Chic fashions are perfect for wearing to the track on Saturday, church on Sunday and the office on Monday.
Track Chic has partnered with award winning actress and former SCCA competitor and team owner, Marsha Mason, to provide a line of pure, healthy, petroleum free skin care products in Track Chic's Body Shop.
The Power of Women and Money. Track Chic's Sisterhood is a powerful force and over 100,000 merchants in the U.S., Canada and Puerto Rico are taking notice. Track Chic members enjoy Hot Pass Access with special 50% off and Buy-One-Get-One-Free discounts in favorite categories including Dining, Shopping, Attractions, Travel, Movie Tickets in over 135,000 venues. In addition to Hot Pass Access savings, Track Chic Crew Members, receive a 10% discount on all purchases in Track Chic's Boutique.
Crew Chiefs, (Chapter Presidents), wanting to accelerate their profits can host Girls Garage Parties, a fun, new home business opportunity perfect for stay-at-home moms, weekend track warriors and women looking for a fun and rewarding part-time business opportunity. Crew Chiefs, in addition to their 10% discount, also earn 10% "Fun Money" commission on all online purchases made by their Crew Members. If preferred, Track Chic will donate the Crew Chief's commission directly to the charity of her choice on the Crew Chief's behalf.
Track Chic's male hosts the Lug Nuts are a fun, lighthearted response to all the barely clad female hostesses and swimsuit competitions men have enjoyed trackside for years. Track Chic separates itself from the usual male oriented race websites and offers female race fans a place of their very own. The Lug Nuts concept and online Lug Nuts photo contest introduces the Fun female race fans have been waiting for.
Track Chic actively supports charities important to women, including children, education, women's health issues and support for our military families struggling with the emotional and physical wounds of war.
###