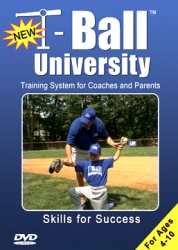 Boonton, NJ, February 18, 2009 --(
PR.com
)-- Just in time for baseball season, T-Ball University presents an Instructional DVD and Web site for parents and coaches of children, ages 4-10. The T-Ball University Teaching system is designed for parents and coaches involved in Tee Ball and beginner Baseball. "Our Mission is to provide Parents and Coaches with the proper tools to help children improve their skills and avoid getting into bad habits. Not every player will be the next major leaguer, but with the drills that we teach in the video and on the Web site, players will be the best that they can be," says Brian Leuthner of Summit, NJ, a former baseball player, father of three, and co-creator of the video.
According to marketing research, there are no "how to" videos available to the tens of thousands of parents that volunteer their time to coach boys and girls in Tee Ball and beginner baseball. T-Ball University answers this need and is a complete teaching system for parents and coaches. It focuses on the fundamentals and is broken into searchable sections including throwing, hitting, catching, base running, and more. Parents and coaches have the option of purchasing the DVD for $29.95 or enrolling instantly in the online version of T-Ball University at
www.tballu.com
for $59.95. On the Web site, parents and coaches can watch all of the videos online and access over 20 common downloadable tools, including practice schedules, lesson notes and fielding rotation and batting order forms. There's also an opportunity to ask questions and share successful techniques on the Web sites "Coaching Forum."
"This DVD and Website was just what I was looking for!" stated David Fallon of Summit, NJ, one of the first T-Ball University customers. "My wife had just signed me up to coach my 5 year old son's T-Ball team, and though I played a little high school baseball, that was years ago….This is fantastic and the downloadable practice schedules are great!"
Steve Polansky, who is the featured coach and narrator of the video clips remarked, "Baseball is still America's Favorite Past time and we wanted to put together a 'how to' video and web site for parents and coaches, so that the kids can enjoy the game more." Polansky, an ex-Div 1 college baseball player, developed the T Ball University systems and has been using it for the last 8 years as his children have progressed from Tee Ball to more advanced leagues. Polansky continued, "I've used this system with my teams and last year our 9U team was ranked 3rd out of 600 teams in the nation. We know these easy and fun drills work."
David Comora, a resident of Parsippany, NJ, who directed the video and developed the web site has been a youth baseball coach for over 10 years. Comora added, "anyone who has coached 8 -12 year old children in baseball or softball, knows that a tremendous amount of time is wasted, trying to break kids of the bad habits they learned when they played T-Ball or coach pitch baseball. Our goal with the T-Ball University System is to stop the bad habits before they begin."
David Kalb a co producer of the video who is also an active youth sports coach remarked, "over the years, we've talked to parents and youth coaches and they were always looking for more instruction and drills to help their children improve. In this DVD, we provide that instruction, along with slow motion replay of key points, and more. Even if a parent has never coached before, this system provides everything they will need to be comfortable, the first time they step on the field for practice. We've even included a whole section for parents on how to choose the right equipment for their new T-Baller."
About T-Ball University
T-Ball University is a company that provides educational coaching Information for parents and coaches on various sports focusing on children ages 4-10. Their first instructional DVD & Web site focus Tee-ball, which is a lead-up skill for baseball.
For more information, please visit the T-Ball University Web site at
www.tballu.com
or call David Comora at Davids Productions, Inc. at 973-541-2201.
###