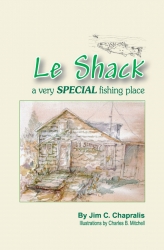 Chicago, IL, March 01, 2009 --(
PR.com
)-- When Le Shack was founded almost 50 years ago, the original members observed a morning ritual. With drink in hand and in various stages of dress, they lined up outside, faced east and observed the morning toast as one of the founders bellowed Sol er oppe, a Norwegian fish poem. Then they headed back into the shack for a hefty breakfast and sharing last night's fishing results. Things are a little different today, but the fundamental spirit and camaraderie still support Le Shack…a very special fishing place, as you will read in this engaging book.
Le Shack -- a very special fishing place, Jim C. Chapralis's most recent book, shares the real tale of an endearing, rustic fishing cabin, the rivers of rural Wisconsin, and the engaging experiences of a dozen anglers who are members of Le Shack club – all drawn to the hidden charms of Midwestern waters.
"Through the years, I have told people stories of Le Shack. No matter where they live, many say it reminds them of their own experiences…a cabin or lodge hidden in the woods away from it all with its own stories and characters," Chapralis said.
Le Shack details its evolution from a minimum-comfort farmhouse, complete with resident mice and soaring bats, an outhouse, and no indoor running water to a more comfortable Le Shack II across the river that features indoor plumbing and lacks rodent guests. The book introduces Le Shack's members and its traditions, and is laced with many expert tips for small stream fishing (such as wearing river branches as camouflage to approach the trout).
Author Jim C. Chapralis was fortunate enough to fish in almost 40 countries, going to some countries as many as a dozen times, during his 35 years in pioneering the international fishing travel business. "Believe me," Chapralis noted, "it was a great privilege to fish such storied places as the Alta River in Norway, or to fish with famous angling writers such as Al McClane (my fishing hero). But long ago I realized that I was addicted to the streams and 'cricks' of Central Wisconsin."
Inspiring and informative, Le Shack will delight anglers and non-anglers alike with the tales of the charismatic guests, their quirky experiences at the shack, and their practical tips.
Author Jim C. Chapralis was a champion tournament caster. He also authored Fishing Passion, Master Your Fly Casting, World Guide to Fly Fishing, and co-authored Fishing Escapes. He passed just weeks after Le Shack was published a year ago.
Illustrator Charles B. Mitchell, resident of Appleton, Wisconsin, is an award-winning artist whose work has been featured in American Artist, Encyclopedia Britannica, Outdoor Life, Sports Afield and other publications, as well as in museums.
Le Shack – a very special fishing place, is a 216-page (5 ½ x 8 ½"), soft-cover book, including 69 black/white illustrations, and sells for $16.95 (U.S.). Le Shack is distributed by Independent Publishers Group and is available from Barnes and Noble, Borders and other fine bookstores, online retailers such as Amazon.com, wholesalers, and many fly/tackle shops across the country.
For more information, illustration, or sample chapter of Le Shack: a very special fishing place: www.anglingmatters.com/leshack . For a media review copy: chapralis@ameritech.net
###