From Earthy Origins to a Decadent Delivery, Truffles Are Growing on Gourmet Foodies and Farmers Alike
On March 5th through 8th, in Asheville, NC, the exquisite mushroom will bring together artists and chefs, farmers and sommeliers, musicians and dog-trainers for the First Annual National Truffle Fest (www.NationalTruffleFest.com).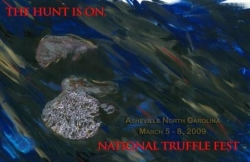 Asheville, NC, February 25, 2009 --(
PR.com
)-- Even in today's slumping economy, truffles are proving to be a lucrative business. Many tobacco farmers in the Eastern United States are now planting vines for wine and trees for truffles. At around $1000 a pound, that's a rich harvest.
During this decadent 3-day event, guests will be offered cooking demonstrations, tasting dinners, competitive cook-offs, truffle-dog hunting and a sampling of the very best truffles North America has to offer.
Guests will be invited to take part, on Friday, in a reenactment of a truffle hunt on the beautiful grounds of Whisper Mountain (
www.WhisperNC.com
).
Seven top chefs will create a once-in-a-lifetime, seven-course meal at Saturday's "Chefs' Dinner." Culinary icons like Iron Chef Walter Royal and Giorgios Bakastias will be preparing dishes for 300 lucky guests.
Local music and a breathtaking atmosphere ensure an excitement and energy all food and wine enthusiasts will enjoy.
For information on our "Grower's Forum," "Truffle-Dog Trainer," "Guest Chefs," and "Winemaker Dinners" see:
www.NationalTruffleFest.com
Or contact: Traci Tucker-Cortez (919)845-8880 traci@frankielemmon.org
###
Contact
National Truffle Fest
Rebecca Antonelli
919-740-3008
www.NationalTruffleFest.com
Experts are available for interviews when you need them. Betty Garland: 919 593 6214 or Betty@GarlandTruffles.com

Contact