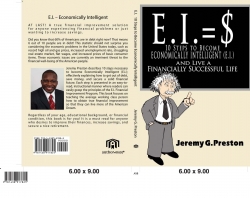 Wilmington, DE, March 01, 2009 --(
PR.com
)-- Many leading U.S. economists have indicated that our country is in the worst recession since the great depression. This fact is based on grim statistics (released based on fourth quarter of 2008) such as, a 6.2% economy [gross domestic product - GDP] shrinkage, a 9.5% average decline in house prices, and a 7.2% increase in the unemployment rate. These grim statistics could give many Americans the false impression that there is no way to survive the recession.
Luckily, a financial improvement solution has been developed to help people survive the recession. This financial solution is known as E.I. E.I. is an abbreviation for Economic Intelligence; it is a financial improvement philosophy that teaches individuals how to be wise about managing and spending money. Mr. Jeremy G. Preston, founder of the E.I., recently published a book that describes principles of his E.I. Financial Improvement Philosophy. The title of the book is, "E.I. – 10 Steps To Become Economically Intelligent (E.I.) And Live A Financially Successful Life". In this book, 10 easy-to-read steps are presented, and describe how-to obtain financial freedom by increasing savings. According to Mr. Preston, this book is a must read for individuals that desire to be financially successful despite a deepening recession.
Recently, a local Richmond, VA resident was given the opportunity to review this new financial improvement book. This Richmond resident, Larry Ajijola, stated, "… this new book uniquely describes how to increase savings and regain control of your finances." Since reading the book and incorporating the E.I. philosophy into his lifestyle, Larry informed that his financial condition has improved and he has increased monthly savings.
The author, Jeremy Preston, is currently promoting his book – E.I. – on a book tour throughout the United States. Due to the heightened national economic crisis, this book could not have been released at a more appropriate time in U.S. history.
###
Contact:
Jeremy G. Preston, E.I. Enterprise LLC
jpreston@theeisolution.com
(302) 312-8350