End Malaria – Blue Ribbon Mugs - for World Malaria Day 2009
The Malaria Foundation International (MFI) is pleased to introduce the End Malaria – Blue Ribbon Mug in time for World Malaria Day; 25 April 2009. The End Malaria - Blue Ribbon logo is imprinted on the front and back of these beautiful mugs. Limited supplies are available for immediate shipments.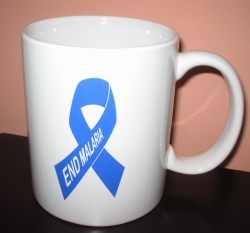 Atlanta, GA, March 03, 2009 --(
PR.com
)-- Malaria causes illness and death in over 100 countries, yet it is a preventable and treatable infectious disease. The MFI has added End Malaria – Blue Ribbon Mugs to its malaria awareness and education campaign toolbox. Large or small orders are welcome now and throughout 2009. Donations for End Malaria – Blue Ribbon products support the foundation's life-saving "Student Leaders Against Malaria" (SLAM) network.
Support young people around the world to become dedicated SLAM members and empowered community leaders who are determined to End Malaria. SLAM leaders make a difference in their communities by educating children, youth and their families about the basic principles of malaria; how it can be prevented and treated, and more. Funds generated through this program help to cover educational workshop expenses, printing, and other relevant costs.
Children and youth are attracted to these programs, since they are most vulnerable. They want to help End Malaria, and SLAM clubs provide an educational and social means to get involved and make a difference. The SLAM network is currently making headway in India and in many African countries, where malaria remains a leading cause of death.
Visit the End Malaria - Blue Ribbon gallery at www.malaria.org, to see their latest edition of End Malaria - Blue Ribbon mugs, the original EM-BR pins, EM-BR metal stick pins, EM-BR metal magnet pins, and EM-BR car/refrigerator magnets. Alternative mug designs, EM-BR T-shirts and other promotional products can also be ordered through the MFI; special requests are welcome.
For more information, please visit the MFI website (www.malaria.org).
The MFI is a 501(c)(3) nonprofit organization, established in 1992 as the first organization dedicated to the fight against malaria. Its current flagship projects include SLAM and the End Malaria - Blue Ribbon campaign. Together with Choi Kwang Do Martial Arts International, the MFI is showing how partnerships among students, teachers and community leaders can invigorate youth to become instrumental in the fight against malaria.
Keep the fight against malaria in mind.
Order your End Malaria Mugs today.
Contacts:
Dr. Esmeralda Meyer
Outreach Director, MFI
MFI@malaria.org
Tel: 770-891-1604
###
Contact
Malaria Foundation International
Dr. Esmeralda Meyer
770-891-1604
www.malaria.org

Contact