Icon Model Management Toronto - Icon's Rosalba in Miss Universe 2009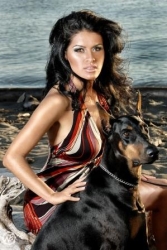 Toronto, Canada, March 04, 2009 --(
PR.com
)-- Over the past several years, Icon Model Management has become one of the leading modeling agencies in Toronto. It constantly continues to build more lasting relationships with its clients to help provide more opportunities to its models. Icon Models is unique in that it has several divisions, which include models and talents of all ages, shapes, sizes and looks. This strategy allows for Icon and its models to be exposed in a variety of different aspects of the entertainment industry. Icon continues to develop existing relationships and create new ones around the globe, including in Paris, Milan, Tokyo, London and New York. This allows for Icon's models to work safely and successfully in different markets.
The most recent venture includes one of Icon's models, Rosalba. Rosalba is taking on in representing Canada in Donald Trump's world-famous beauty pageant Miss Universe 2009. Rosalba just recently signed with Icon models but has been modeling for years around the world and has even done freelance work. She also appeared on the cover of the Vancouver View 2007 September issue. Although Rosalba has been successful in the modeling industry and has an impressive portfolio of a wide variety of work to prove it, she endured quite a lot before ending up working towards competing for the Miss Universe 2009 title. The official biography that Rosalba provided for the pageant package states that she was an orphan, living on the streets of Mexico City until she was 3 years old, when she was adopted and brought to Canada. She endured many other unfortunate experiences in her life, but that is what has made her a strong person who sees beyond surface imperfections to appreciate the inner beauty.
Although Rosalba wants to pursue modeling and acting in the future, she is using the Miss Universe 2009 for a greater cause. Rosalba is a passionate activist for under-privileged children, and has set up the Lonely Hearts Children charity. She already has contacts in Mexico, El Salvador and Honduras and wants to travel to the lower part of India to raise awareness. Rosalba is focusing on helping orphaned children in that part of the world, because getting them off the streets will, in turn, help the community. She also wants to inspire people by reminding them that the only person holding them back is themselves, and that in the end money doesn't mean anything.
Rosalba is currently competing to become Miss Canada, from the top 12 in British Columbia. After all the applicants are processed, she will learn whether she will be able to represent Canada in Miss Universe 2009. Competing in pageants has always been one of Rosalba's interests; she was the 2nd runner up in Miss Latina Canada since August 2008. This competition, however, is her biggest one and requires her to train up to 6 full days a week. It will also give her a chance to meet Mr. Donald Trump himself, of course.
With Rosalba's exotic beauty, charm, intelligence, passion and such a strong work ethic, we are sure that she will go far not only in this competition, but in her other endeavors as well. The team at Icon Models is proudly supporting Rosalba in this competition and wants to wish her all the best!
###
Contact
Icon Model Management
Anastassia Lavrinenko
416-504-4266
www.iconmodels.ca
The Fashion Building
130 Spadina Ave., Suite 402
Toronto, Ontario M5V2L4
Canada

Contact