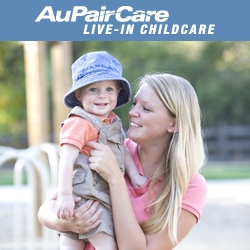 San Francisco, CA, March 17, 2009 --(
PR.com
)-- Increasingly, once stay-at-home parents are forced back into the workforce to supplement lost income due to the effects of today's challenging economic times. These families are now faced with finding quality childcare at an affordable cost. AuPairCare,
www.aupaircare.com
, a leading U.S. au pair placement agency, is doing its part to help make quality childcare even more affordable by offering new families the chance to apply for free until April 6.
AuPairCare's services are already more affordable than most nanny or daycare options as the program costs about $320 per week, or $7 per hour, for 45 hours of live-in childcare regardless of the number of children. With this promotion, AuPairCare intends to help families begin the process of solving their childcare needs by waiving new families' $350 application fee.
A fun twist on this promotion is that the agency is also giving 50 families the gift of a portrait at any Picture People studio across the nation. Emilie Colker of AuPairCare says, "Families currently have so much on their plate that we decided to create a promotion which would not only ease the burden for families who are unsure or preoccupied with finding affordable quality child care but, also reemphasize the importance of spending time as a family even when other issues are front of mind. Picture People is widespread in malls across the country and a great way to create both a fun family activity and keepsake to remember the occasion."
Au pairs come to the U.S. for at least 12 months on a J-1 cultural visa to live with an American family and provide 45 hours of flexible live-in childcare per week. Families select their au pair from a database of 100s by search criteria such as nationality, interests, previous hours of childcare experience with kids of a certain age, etc. AuPairCare's program is regulated by the U.S. Department of State, reassuring parents that their children are cared for by a carefully screened and qualified childcare provider.
About AuPairCare
Since 1989, AuPairCare,
www.aupaircare.com
, has successfully placed more than 30,000 au pairs across the U.S with American families seeking great at-home childcare for an extended period of time. Au pairs come from over 40 countries and have been thoroughly pre-screened by AuPairCare's overseas representatives. They all have previous childcare experience, speak English, attend a special training program, and have a sincere interest in living with an American family.
###