Air Conditioning Austin Rebates
Air Conditioning in Austin has several rebates that are offered to home owners.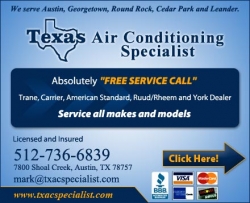 Austin, TX, April 15, 2009 --(
PR.com
)-- For home owners in the Austin metro area, their are opportunities for major discounts. If you are a homeowner and your air conditioning system has not been working that well. Or is just getting really old and is not very efficient and needs to be replaced. This is the year to do it. President Obama passed the stimulus bill that allows homeowners to claim a $1500 tax credit on a Air conditioning and heating system changeout. On top of that if you are a member of the Austin utility's then for the same system you can claim up to a $600 rebate. Also nearly every manufacturer are offering rebates on top of that. For instance Carrier offers a $1000 rebate for the same system. You add that up and that is $3100 in rebates. So a system that would normally cost you $7000 you can get for under $4000. Now this system is one of the more efficient on the market. So not only are customers getting those rebates they are cutting the air conditioning bills in half in some cases. This is great news for home owners. One more thing to add a cherry on top is these systems are charged with R410A. Ozone friendly freeon. So not only are homeowners saving money but saving the environment at the same time. Visit
http://www.txacspecialist.com
for more information.
###
Contact
Texas Air Conditioning Specialist
Mark Cardwell
512-736-6839
www.txacspecialist.com

Contact