EZblue Software Corporation Releases EZblue Linux Server 3.9, Featuring the iTunes Compatible Firefly Streaming Server Module
People that have old PCs hanging around can choose to save it from a landfill by downloading a copy of EZblue Business Server software, to turn the computer into a powerful server in minutes.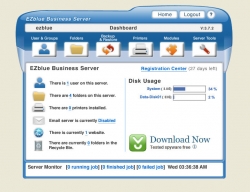 Corrales, NM, April 15, 2009 --(
PR.com
)-- EZblue Software Corp., a leading provider of Linux software products, today announced the release of its EZblue Linux Server software version 3.9 with a built in iTunes compatible streaming server module.
A free trial can be downloaded from EZblueSoftware.com (http://www.ezbluesoftware.com).
"We are very pleased to announce this release of EZblue Linux Server 3.9 with the streaming server module. The new iTunes player compatible server module adds a whole new dimension to our server software that was not available before. It will allow users to enjoy their music and manage their digital media files from the same server," said Nellie Martinez, marketing manager for EZblue Software Corp. "EZblue Linux Server has steadily gown in popularity since its release, and we feel the addition of the streaming module will actually bring more users to use the software fairly quickly."
One Server Does it All
EZblue server software integrates all the essential storage, sharing, hosting and streaming features in one easy to install and easy to use Linux based server. The software package consisting of the EZblue Linux OS and several applications modules all integrated on one CD, giving customers the following features:
- Fast and easy to install All-in-one Linux server software on any standard PC
- Unlimited storage for all type of digital files including data, photos, music and video
- Remote access from anywhere over the internet
- Built-in backup and restore module to backup and protect all the server files
- Easy Web-based graphical admin interface to manage the server using standard browser
Pricing and Availability
The introductory price for the streaming server module is $19.95. The EZblue Server Home version 3.9 is available now from EZblue Software Corp. for $149.
All EZblue Server Software includes the EZblue Magellan Desktop.
For more information, visit http://www.ezbluesoftware.com or call (505) 994-9232.
(All prices are U.S. list price)
About EZblue Software Corporation
EZblue Software has been providing software solutions to small and medium size businesses, educational institutions and government clients since 2003.
EZblue Software Corp is located in the Albuquerque Metro Area.
EZblue Software Corp.
PO Box 2521
Corrales, NM 87048
Phone: 505 994-9232
E-mail info@ezbluesoftware.com
Press Contacts
EZblue Software Corp.
Nellie Martinez
(505) 994-9232
nmartinez@ezbluesoftware.com
###
Contact
EZblue Software Corp.
Nellie Martinez
505 994-9232
www.ezbluesoftware.com

Contact